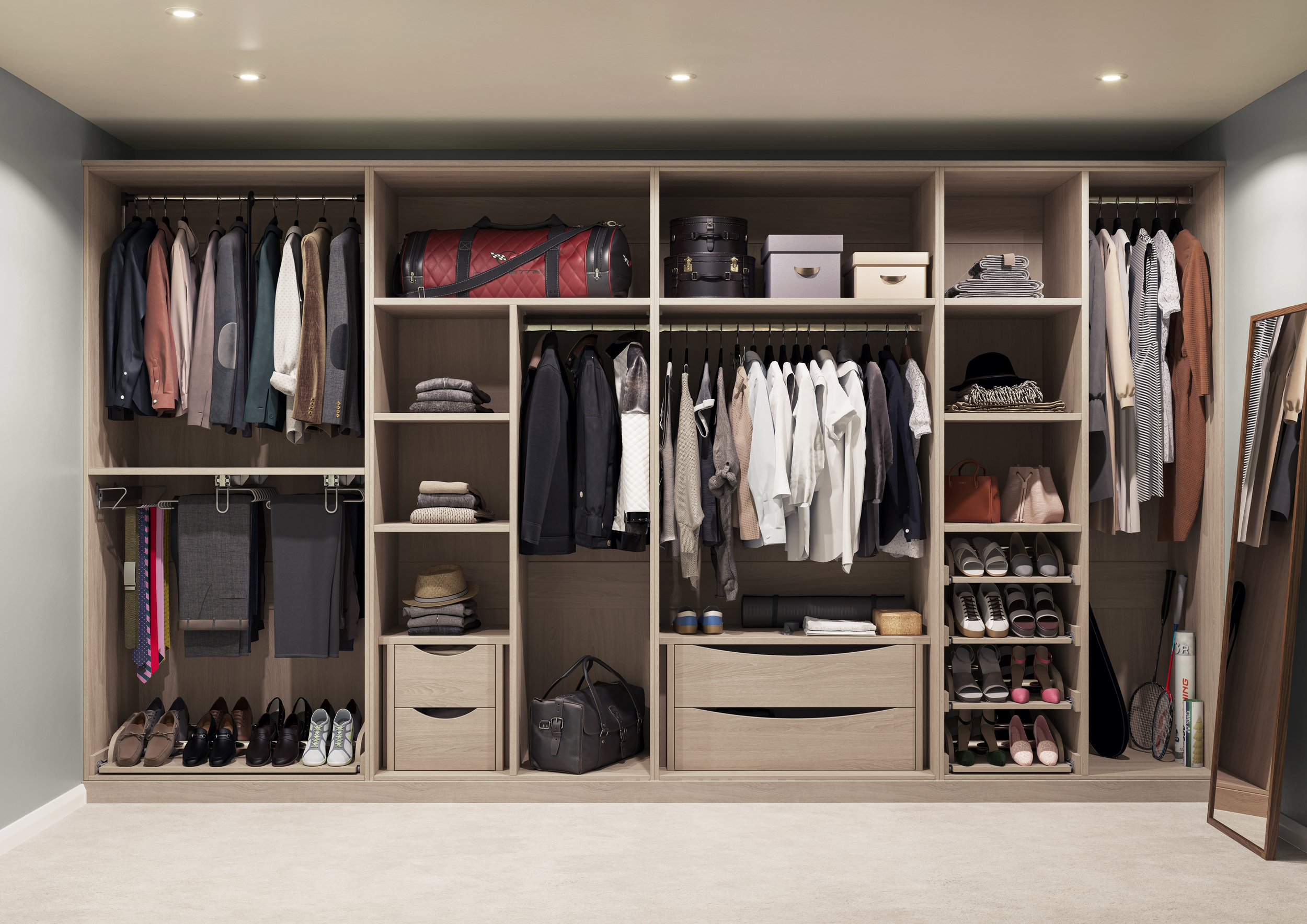 With inspiring storage options and the ability to use every inch of space, fitted furniture can transform your bedroom into a calm sleeping space and make getting dressed a much nicer experience. Up to date fitted furniture, if done well, can also add value to your living space when it comes to moving.
You could try bringing more light into a dark bedroom with mirrored doors and also make the available space seem much larger. If you place cupboards up on walls, like over a bed, this allows you to maximise your bedroom floor space and gives you a clutter free bedroom more favourable for relaxation.
Let's look more closely at some of the bedroom storage options available through our experienced design team at Colour Supplies.
Practical ideas for the 'girls'
With well thought out clothes storage options you can tailor your built in wardrobe to the clothing you have.
With custom storage it is all about choosing the configuration of shelving and drawers to suit how you want to arrange your clothes. For instance, you don't need to put up with acres of rails if most of your clothing gets folded.
Or perhaps you haven't considered a Pull Down hanging wardrobe rail, for getting the most rail space out of your full height wardrobe, instead of having a barely used top storage shelf? With an easy to reach handle that pulls the rail down this really maximises available hanging space.
And, if you have an odd shaped area, perhaps leading to an en-suite, how about turning it into a luxurious Dressing Area with built in drawer units, as illustrated below? Just add mirrors and lighting as desired.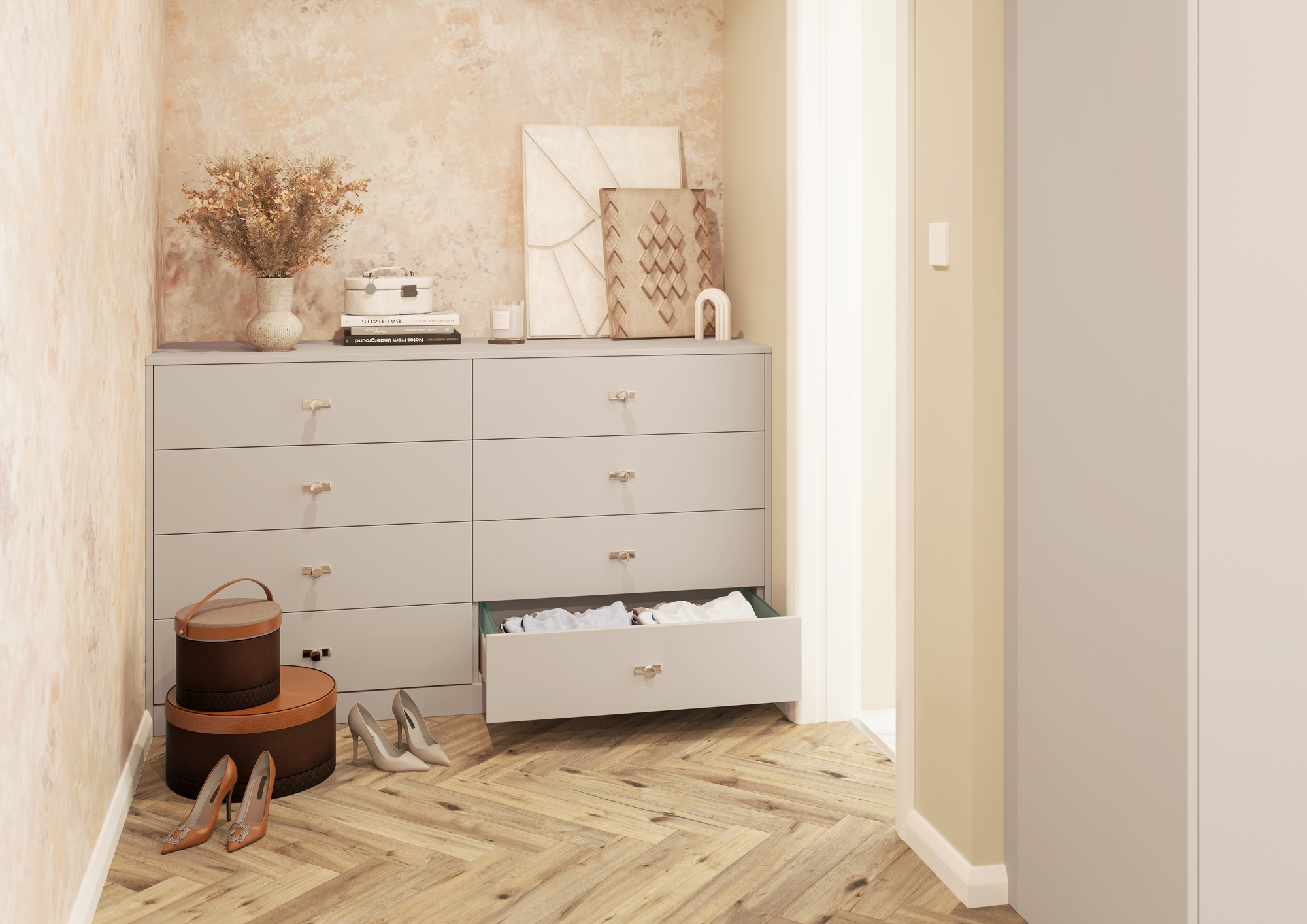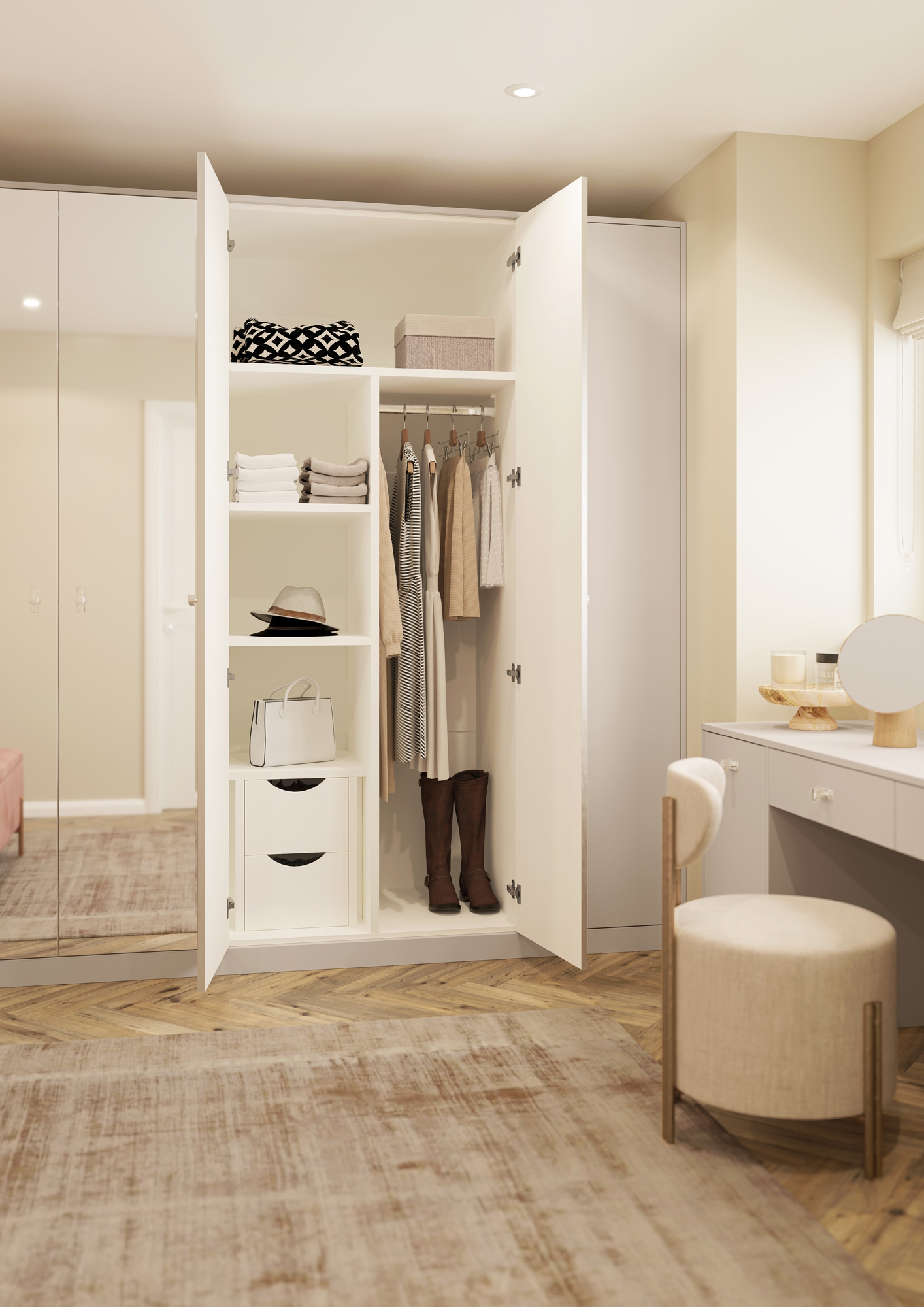 Configure storage your way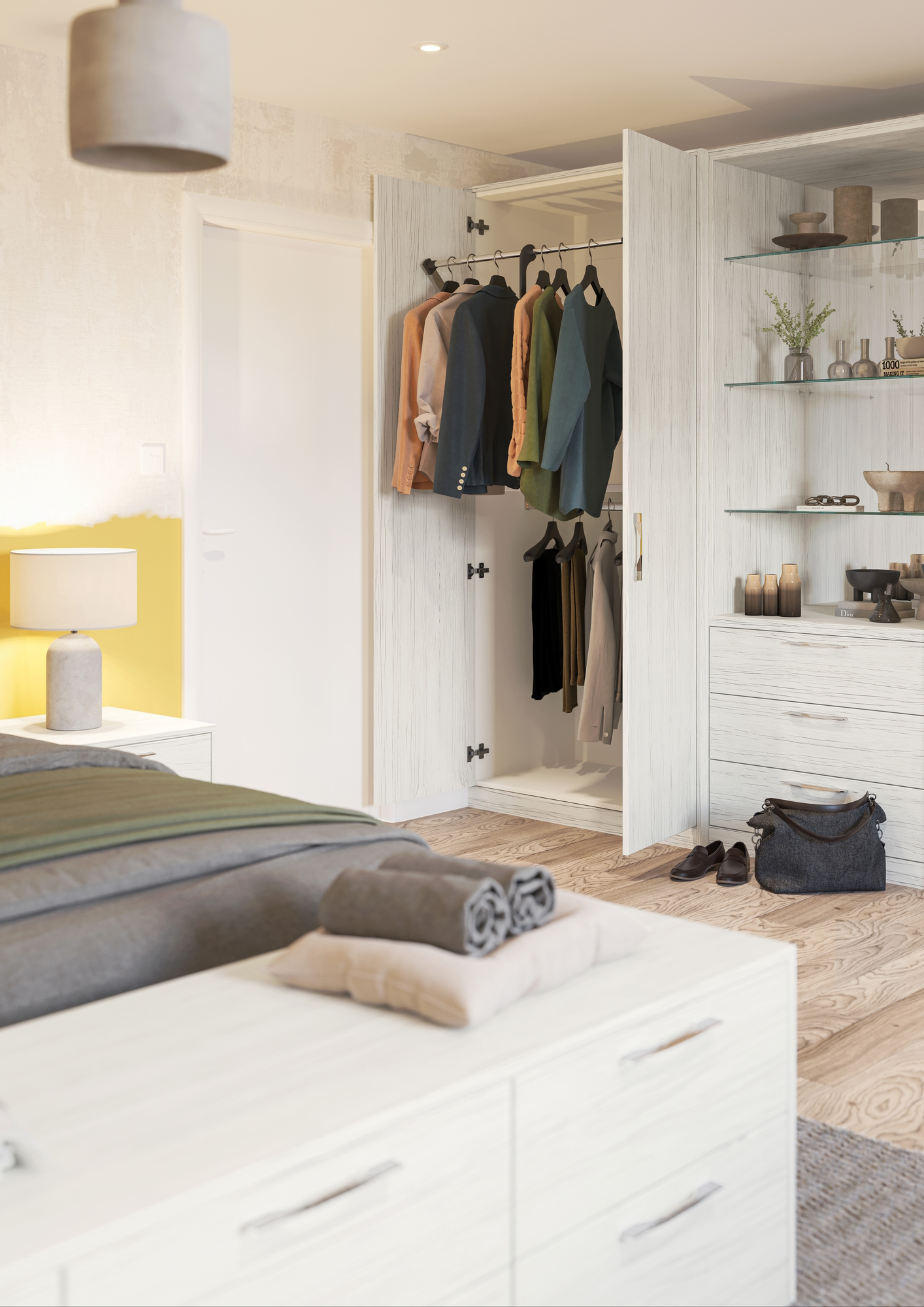 A pull down hanging rail makes higher rails easy to reach
Practical storage for the 'boys'
If it has been a while since you last looked at fitted bedroom furniture options and built in wardrobes you may be surprised at what space saving ideas there are now.
For instance, with these super easy to use sliding Tie Racks and Trouser Rails you can maximise the use of a section of wardrobe and do away with needing separate hangers, giving you a streamlined efficient area. The slide-out function provides easy access and visibility to all of your ties and trousers, also cutting down the time it takes to get ready in the morning.
Built-in trouser hangers make putting trousers away so much easier and should help keep creases to a minimum with far less fuss and bother.
Just add a simple Shoe Rail, as shown below, to keep your favourite pairs of shoes easily accessible too.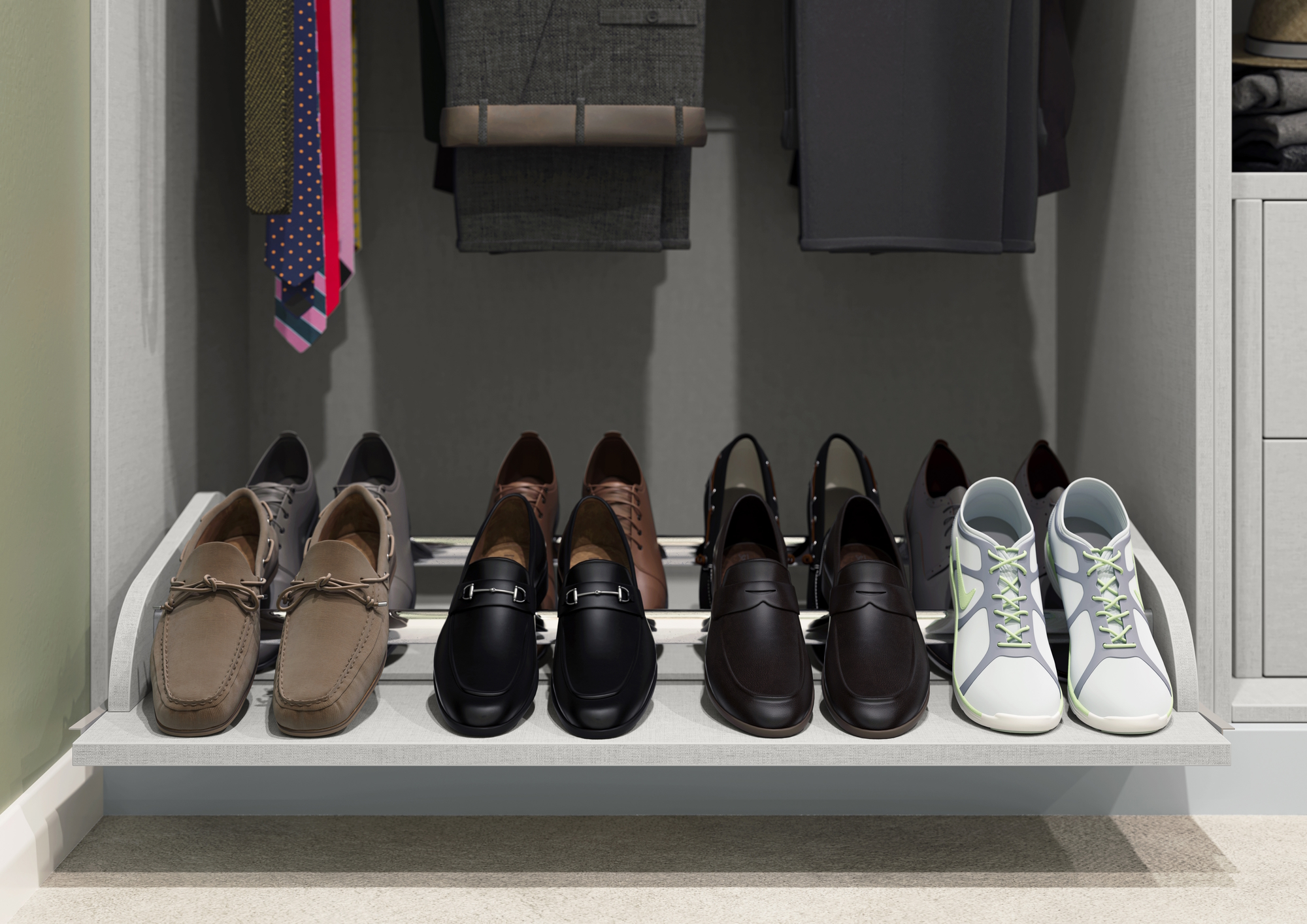 Easy to see all your ties at a glance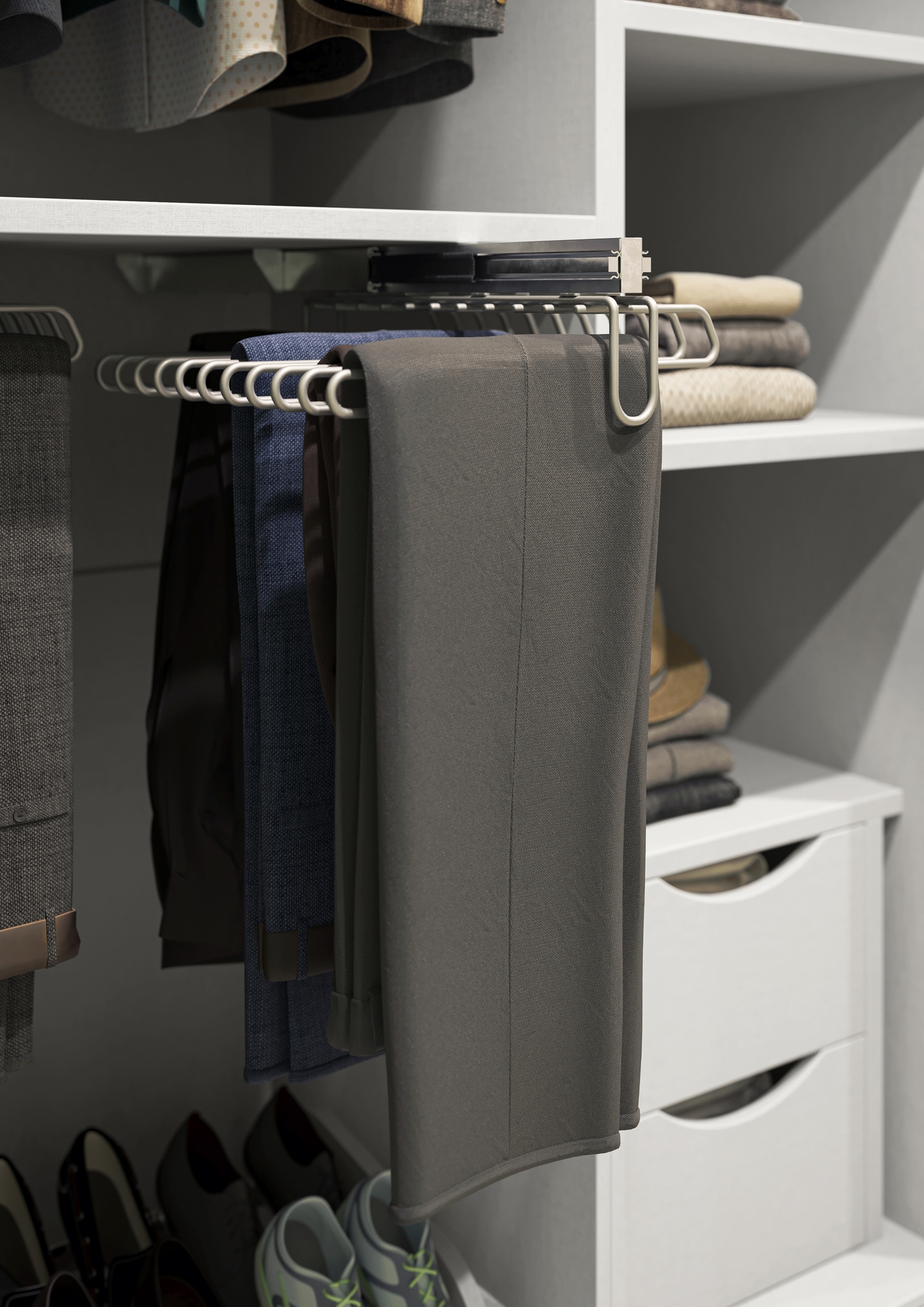 No more tangled hangers and crumpled trousers
Build in a sense of luxury
With built in fitted bedroom furniture your room will feel more luxurious and you can even emulate some of the features found in top boutique hotels to have a luxury experience every single night. Here are some of our top ideas for making the most of, and adding some decadence to, your bedroom.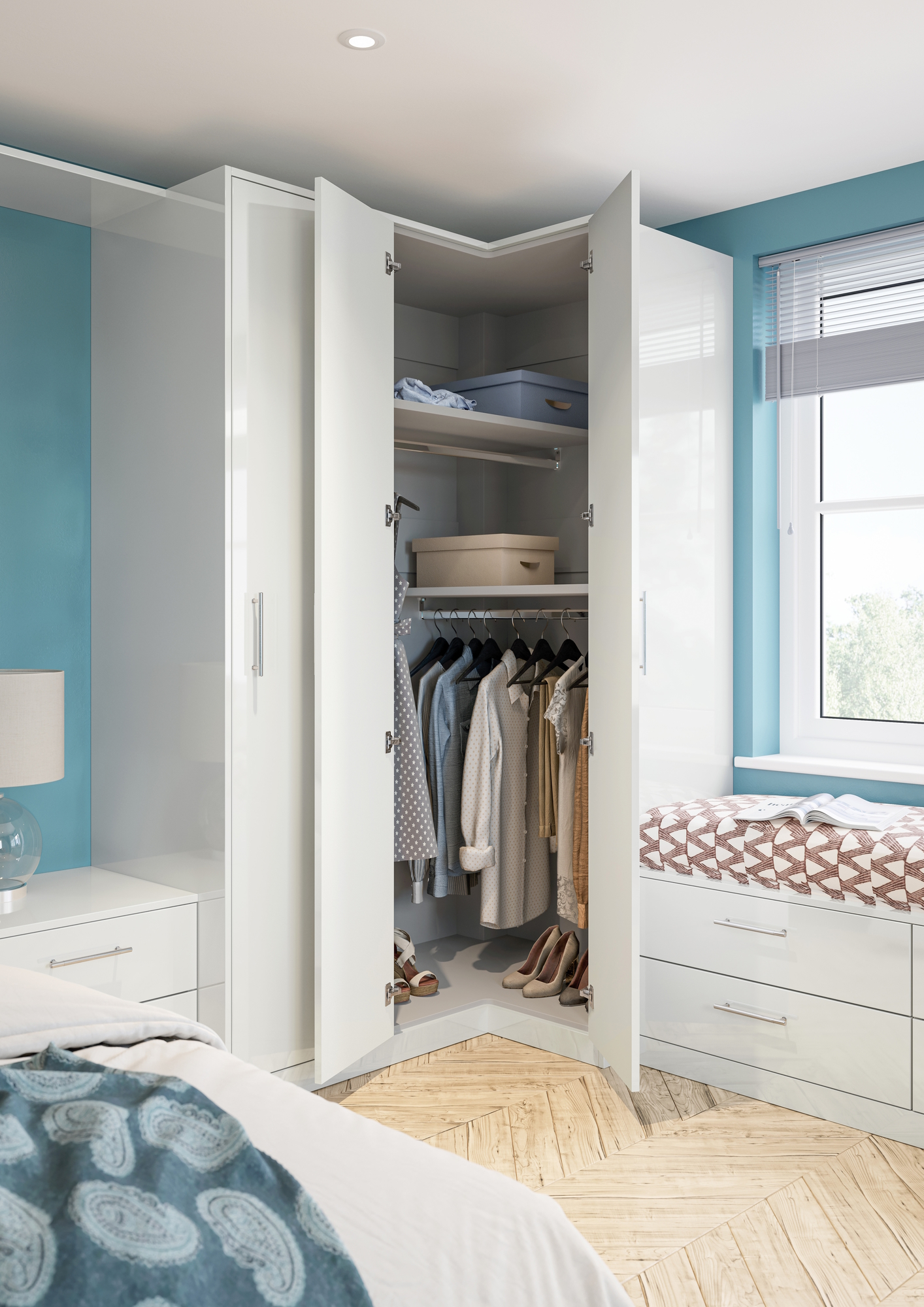 Clever use of Corners
No longer do bedroom corners have to be a waste of space with these well thought out design options for a corner wardrobe. Maximising your space yet keeping everything easy to access, this inbuilt corner wardrobe is ideal for a smaller bedroom and uses every inch of available space.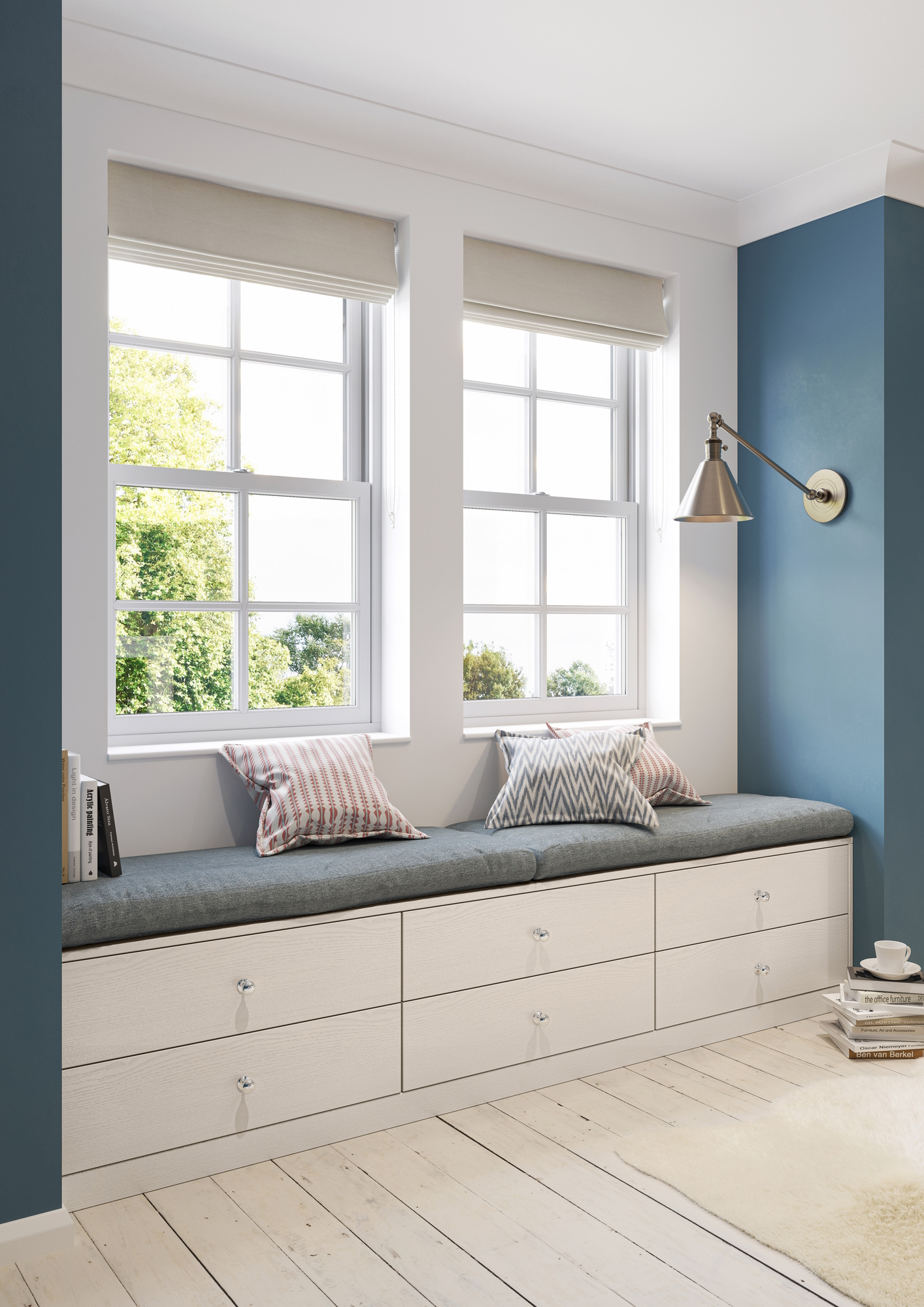 Stylish Ways with your Window
Transform even the smallest window to become a luxurious lounging space for reading or just watching the world go by outside. You'll have loads of easy to access storage space with the addition of these built in drawers. Just style with padded cushions for a beautiful additional seating area.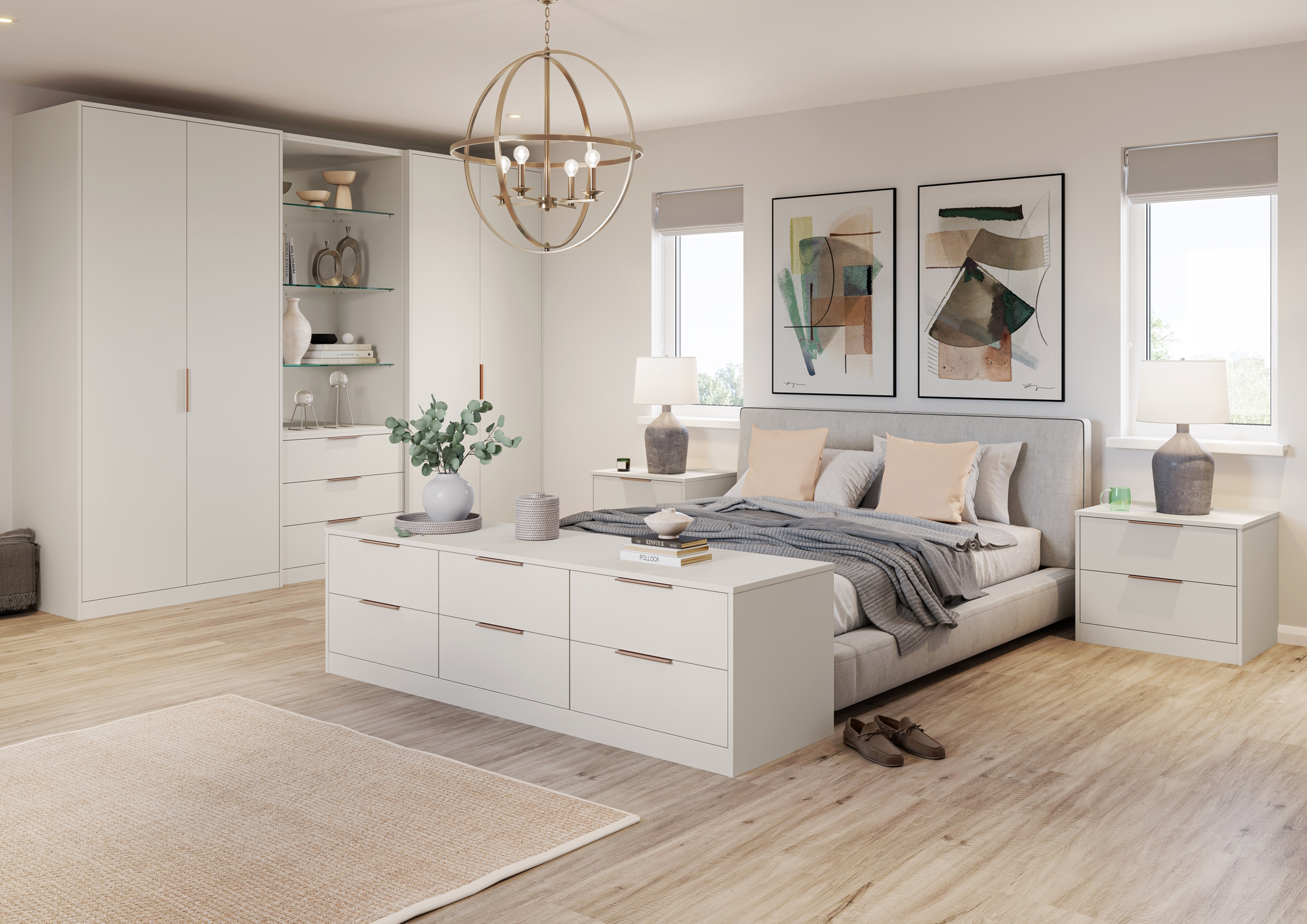 End of bed storage
If you have a large bedroom consider adding drawer units to the foot of the bed giving you the feel of a boutique hotel room. Dress the space with your favourite magazines, a throw, and even a tray with snacks on and you will feel special every time you walk into your room.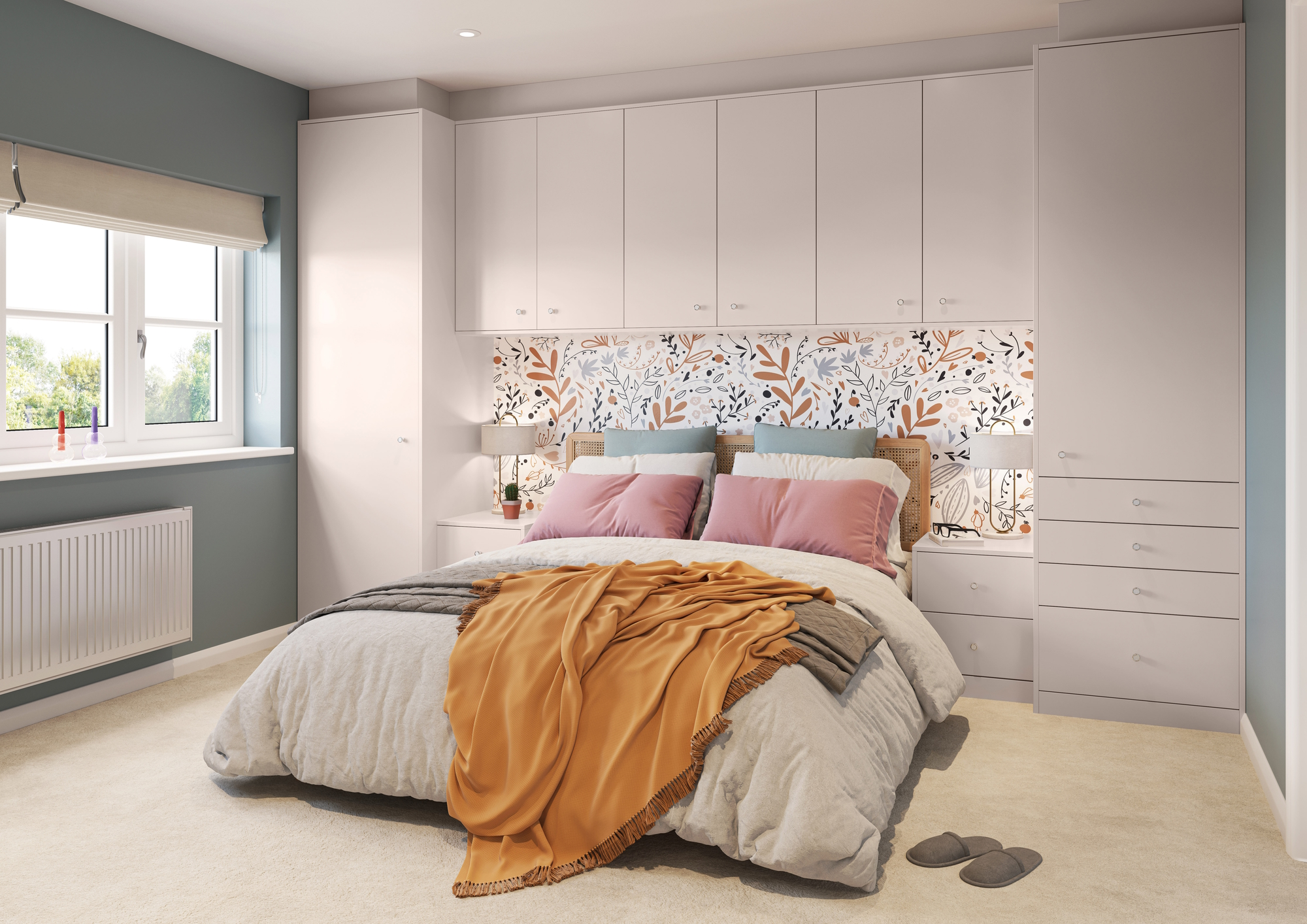 Contemporary inset bed
If you have seen older versions of this 'over the bed storage' configuration, you may not appreciate how you can style this to make a really special, modern look which is ideal for teenagers or parents. Ditch the padded headboard and style with bold wallpaper and modern accessories for a great sleeping space.
With a range of colours and finishes we have a wealth of options to choose from for your new fitted bedroom.
Be inspired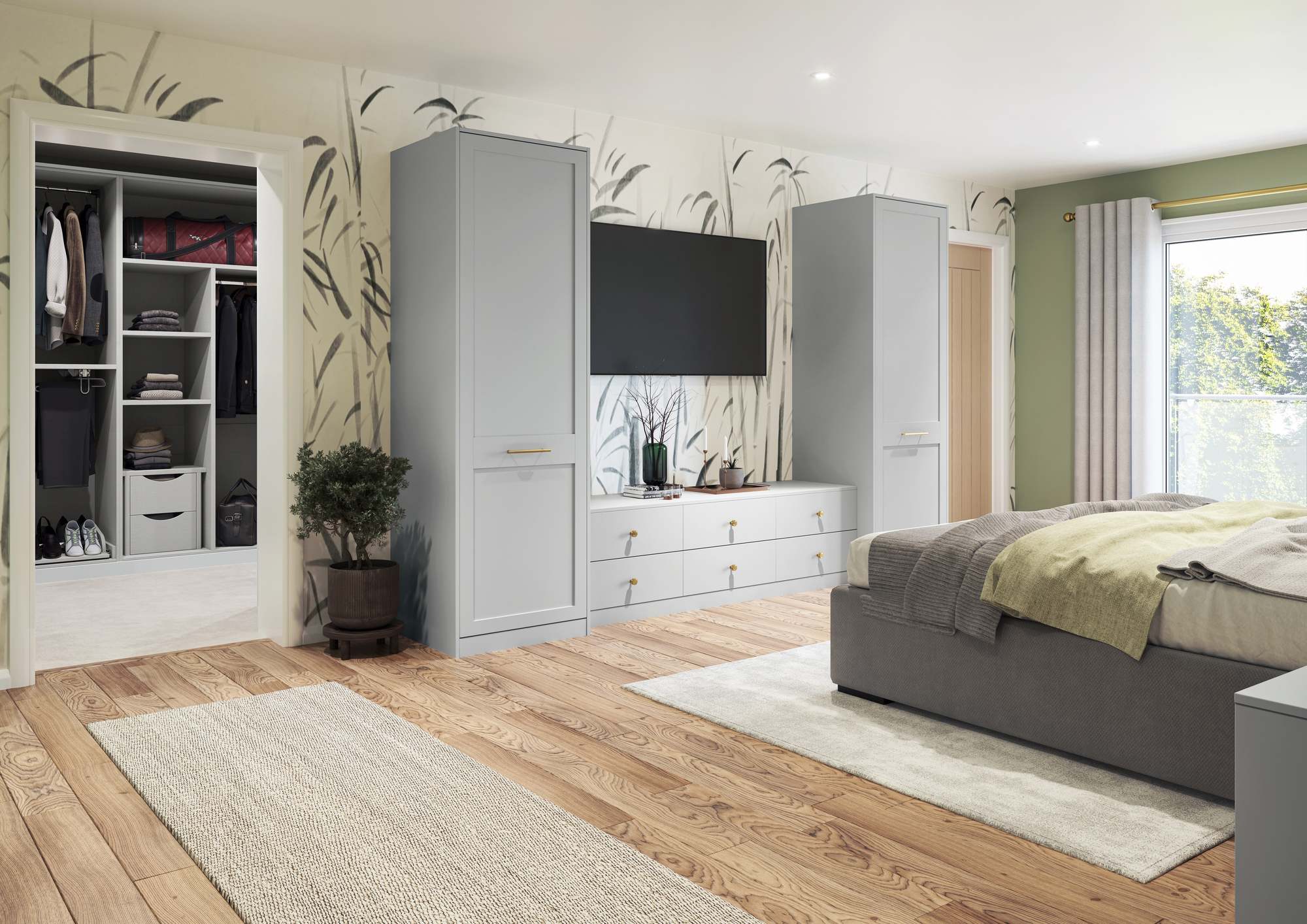 Like this? Ask for Shenaya in Pale Grey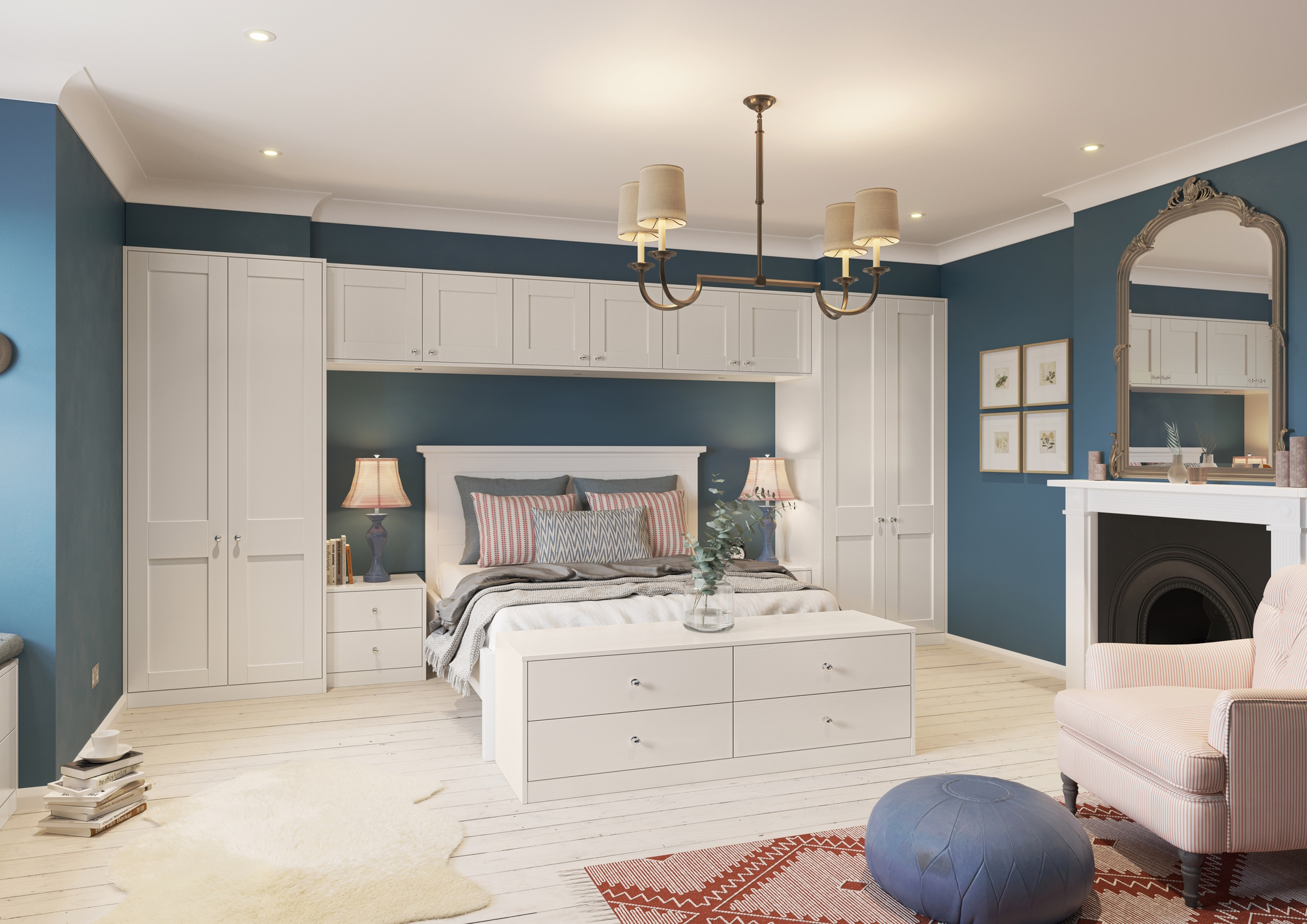 Like this? Ask for Midsomer in Light Grey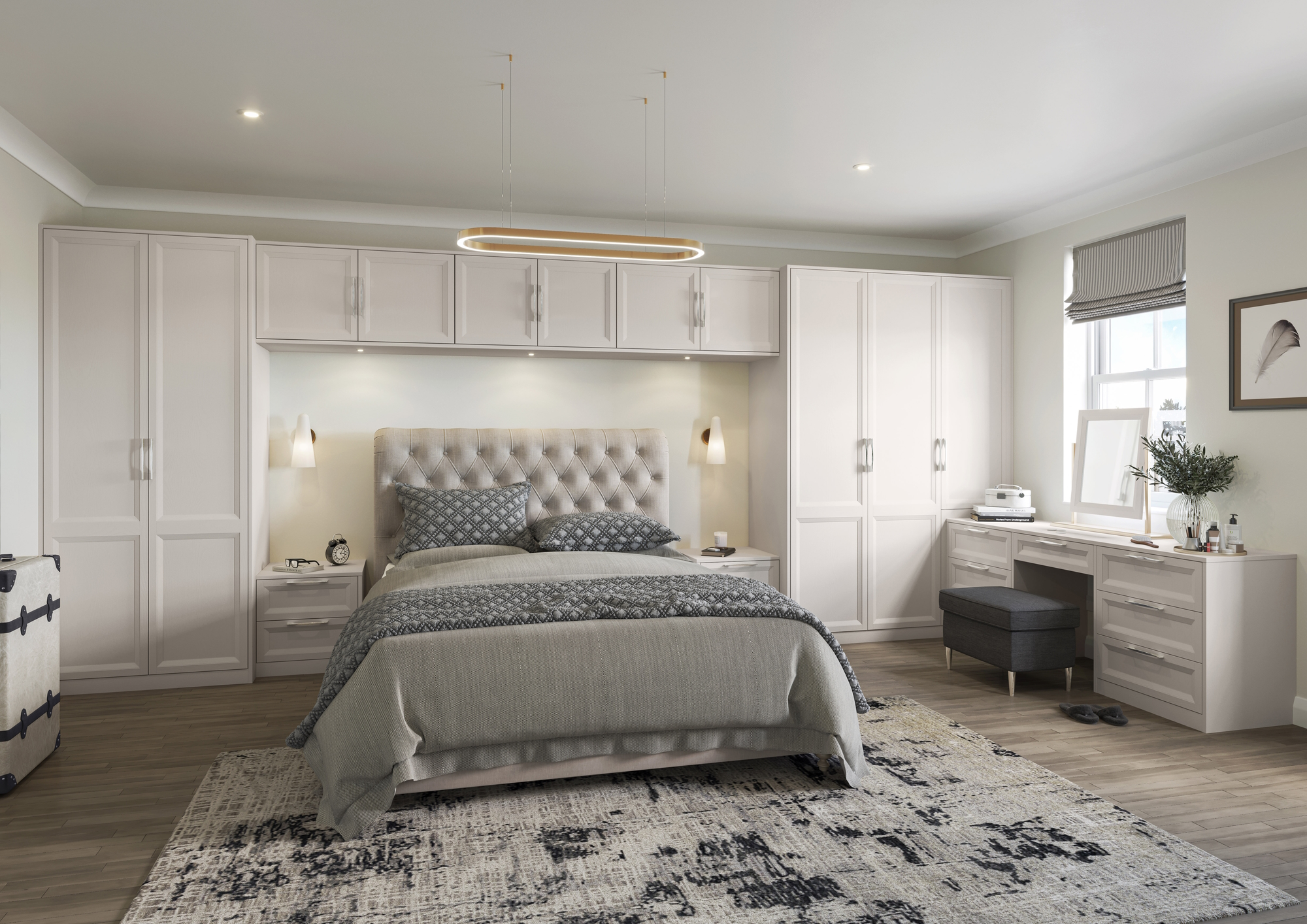 Like this? Ask for Rimano in Cashmere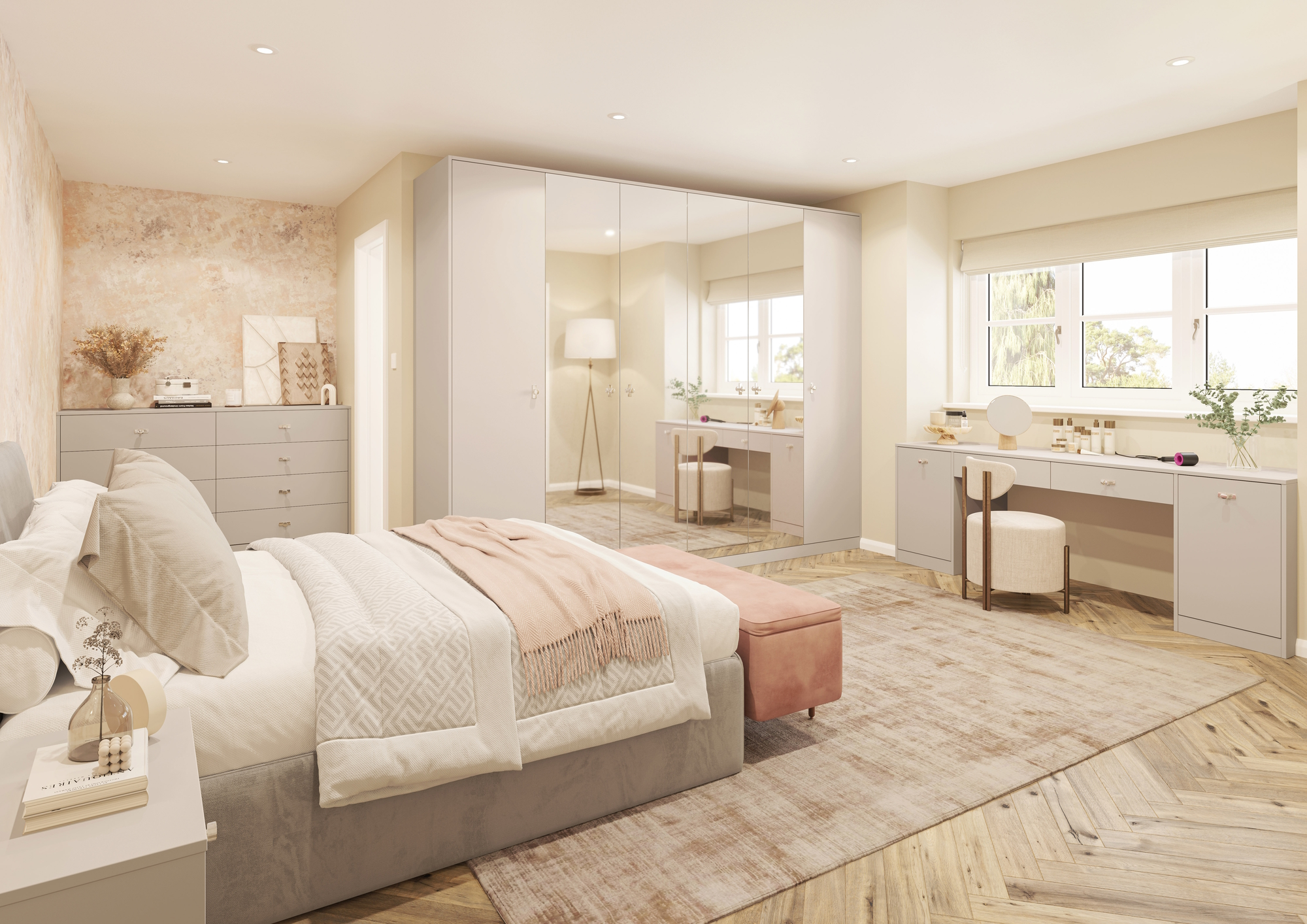 Like this? Ask for Uno in Taupe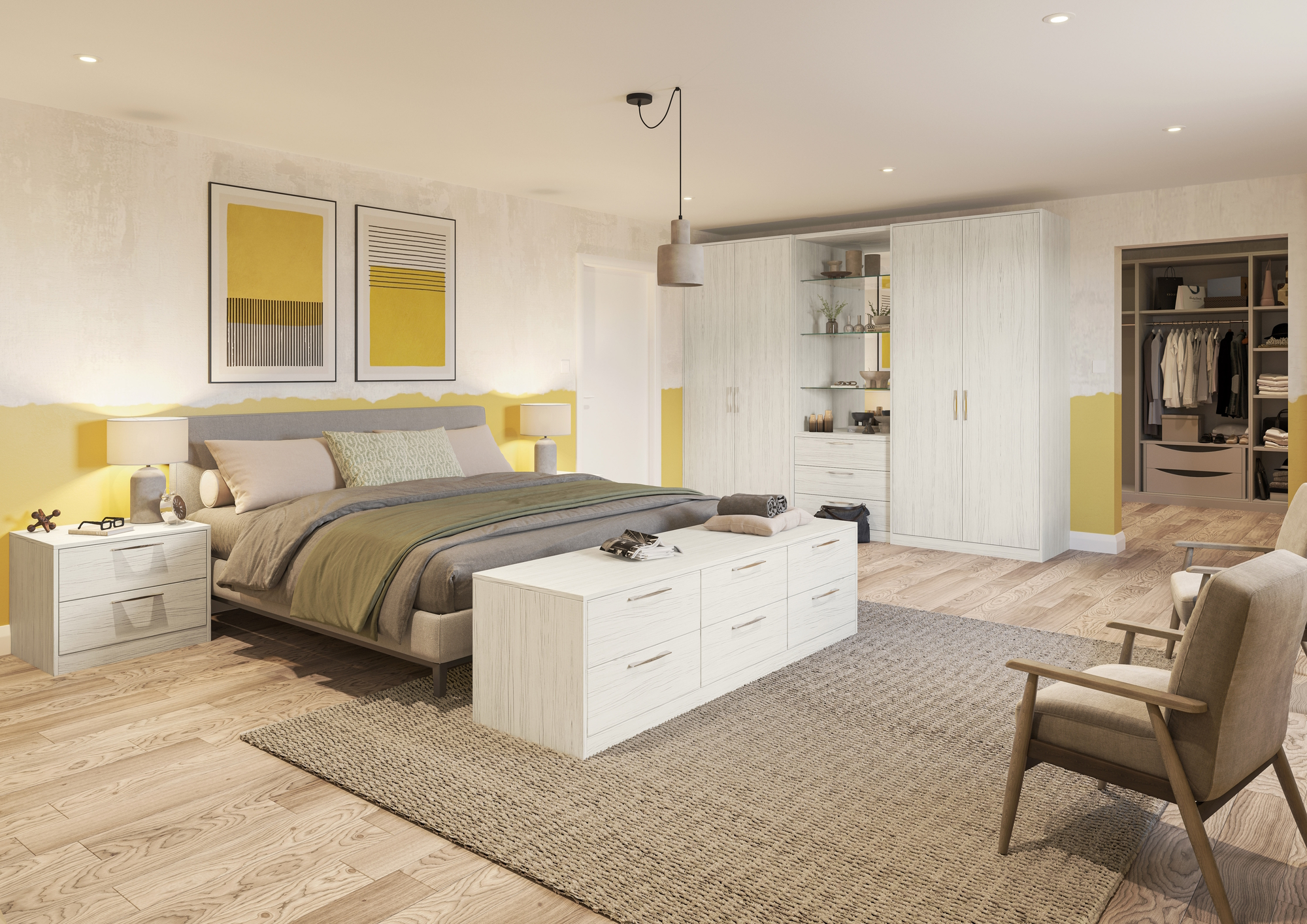 Like this? Ask for Textura in Whitewood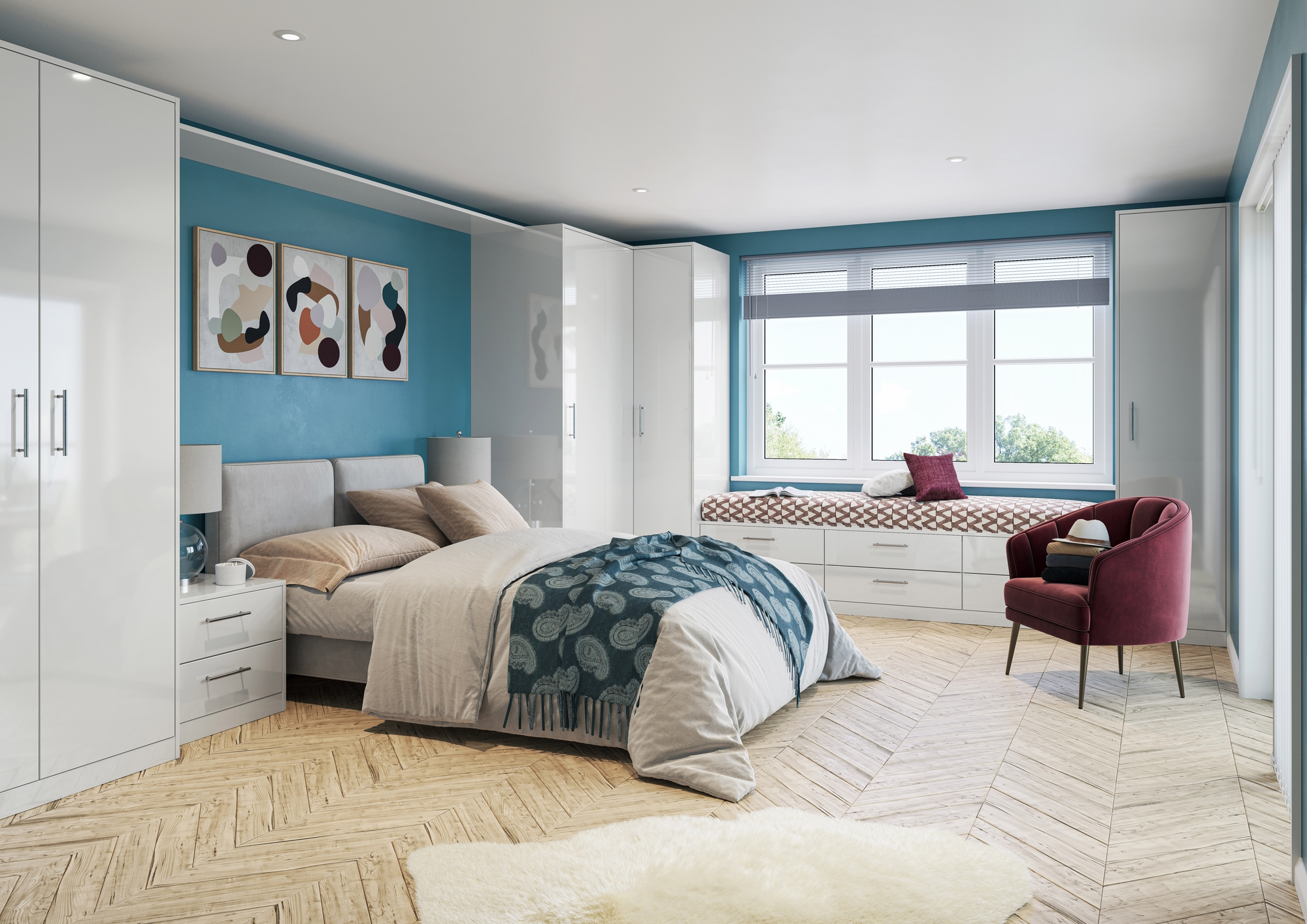 Like this? Ask for Furore in Grey Silk
At Colour Supplies we offer a free no obligation design service to help you achieve what best suits you and your lifestyle. And you can choose finance options too!
Home Visits for design consultations are also available although distance will be a factor in whether you will qualify. Generally, within up to an hour's travel from any of our Home & Garden stores in Oswestry, Whitchurch or Wrexham.
See also our options for a home office to make your home work even harder when you have to work from home.
---
Related Blog Articles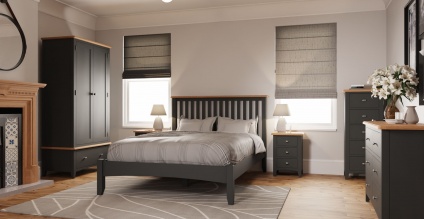 Read our informative article for help on getting your best night's sleep ever.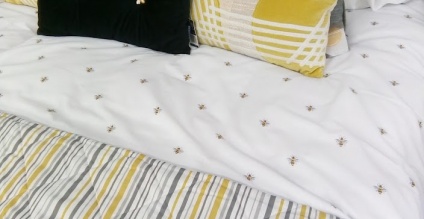 We have a wide selection of beds and mattresses available in store and ready for local delivery. You'll also find a great selection of bedding in store, often with co-ordinating curtains, and cushions for that extra glamour.