Why choose a corner sofa?
Corner sofas provide an ideal way to create a sociable space that is also comfortable. Corner sofas are also a more efficient way to maximise seating because, unlike separate sofas and armchairs, they need less overall floor space.
In this short buying guide, we'll talk you through the sofa options available at Colour Supplies and how you can choose the right corner sofa for you.
Fabric choices
When choosing a new sofa, selecting an upholstery type is probably one of the easier decisions.
At Colour Supplies, you'll find PU leather, velour, and fabric finishes to our sofas; each finish has its benefits depending on your lifestyle. In the list of corner sofa types below, you'll find a helpful summary of the pros for each. It's best to consider each fabric's benefits in terms of care requirements and comfort when deciding which sofa finish is suitable for you.
PU leather Corner Sofas
If you want to achieve a sleek style with practical solutions in your living space, then a PU leather sofa could be for you. A sensible sofa choice for families, especially with young children, and dog owners, PU leather sofas are easy to clean but don't compromise on style.
While offering a practical and stylish solution for many people, they might not be for you, so what other options are there?

In a practical, black PU leather the Bartley Left Hand Corner Sofa will fit the whole family, and maybe even a pet or two! Ideal for snuggling up for a family movie night this lovely sofa is truly versatile to fit in with family life.

In a practical, black PU leather the Bartley Right Hand Corner Sofa comes complete with a soft armrest at one end making a squishy pillow if you fancy lounging out, or to make a comfy bed area if you need to keep an eye on a little one feeling poorly.
Fabric Corner Sofas
If you're looking for more choice in colour and patterns, then Fabric sofas may be what you are looking for. They are certainly very cosy to snuggle up in and can come at a more affordable price.
Just remember to give your fabric sofa the right care and attention to keep it looking its best.

This stunning Sally Peacock Corner Sofa in shades of blue and grey comes in a gorgeous two tone fabric and includes 2 oblong scatter cushions.

After a long hard day what more can you want than to curl up on this stunning Chicago Corner Sofa to watch TV, or lie full out with a good book and your favourite drink. Available in left or right hand layout.
Velour Corner Sofas
Velour sofas create the ultimate glamorous style for your living space. Not only do they exude style, but melting into the silky, soft fabric is a luxury experience to enjoy over and over again.
The vibrancy of the material will last for years if looked after properly.

With comfort in mind, the Bordeaux Corner Sofa is firm with lovely plump cushions, and comes with three scatter cushions included.

Lush velvety soft plush fabric and firm plump cushions give the London Corner Sofa a cosy feel, just right for settling in for an evening in front of the telly, or a good read.
Finding your perfect corner sofa
Corner sofas provide versatility and slot into place almost anywhere in your living space. They can be placed between two walls to provide ample floor space or feature in the centre of the room, making it the immediate focus. We would recommend our Bordeaux Corner Sofa to achieve this look.
Choose a chaise option if you need to sit your corner sofa along under a window, like our Chicago sofa perhaps. This sofa gives you left and right hand options.
Left or Right Hand - What's the difference?
One of the most frequently asked questions is about choosing a left hand or right hand corner sofa. This will depend on the layout of your room, and usually is dictated by the longest free wall.
Each one of our sofa descriptions contains information regarding the options available.
Pairing your corner sofa
Complete your living space with a complementary sofa or armchair to your new corner sofa if you have extra room available. A corner sofa and twister chair combination, which you can find in our Darwin collection, is our favourite way of doubling up on comfort.
Or with the Chicago Corner Sofas you can have a matching Foot Stool.

With a chunky nubuck leatherette look frame and arms, this rugged Darwin Corner Sofa will offer the charm of a Highland lodge.

You could pair your Darwin Corner Sofa with this matching fun, Darwin Twister Armchair giving the cosiness of a large armchair.
Check your choice fits!
Measuring what size corner sofa will slot perfectly into your lounge is vital to ensure you maintain a level of functional space in your living area. You should first measure the boxed dimensions of your sofa to ensure that it will fit through your doorway either lengthways or at a diagonal. You'll then need to measure the width, height and depth of your new sofa. We'd also recommend using masking tape or objects from around your home and using the dimensions provided to map out where your new sofa will be on your floor.
Shop all our corner sofas by clicking here or by visiting one of our stores. Information about our stores can be found by clicking here.
Finance
We offer a range of interest-free and interest bearing finance options to help you spread the cost of your purchase over 12 and 18 months interest free, or 24 and 36 months with credit terms. Ask in store for more details or for online orders find out more here.
In-store options available for immediate delivery
Some of our sofa's are available to order in custom colour options, but if you just can't wait and you want to have your new furniture straight away we have a large selection of Sofa's, Chairs, Corner Suites and more available in store for immediate delivery!
You can come into Colour Supplies in Wrexham, Oswestry or Whitchurch to try out the choices available and follow us on Facebook to see up to date information and when we have special offers.
Disclaimer: All options are subject to availability when you visit the store, and pictures are representative of the product with the actual in-store fabric option given where the main image does not show this. Delivery times on custom furniture may be subject to delays depending on time of year and other factors out of our control.
Furniture only available if you live within our Regional delivery area.
---
Related Articles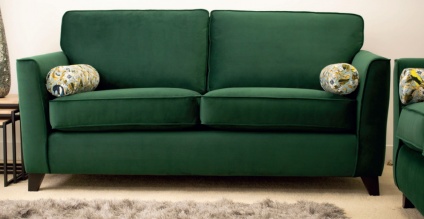 UK built sofa's are now available to order, with a choice of styles and fabrics from a selection of options. Read on to find out more...
You'll find pet departments in all our stores, and if you have dogs there is a range of items like food, beds, leads, toys, pet shampoo and so much more. We are also pet friendly so you can bring your dog into store to help choose their own shopping. Here's what's waiting for your dog at Colour Supplies...