Our Whitchurch store has an ever-changing selection of fashion and classics for the young and not-so-young adult. There is also a full range of lingerie available with a professional fitting service to check your sizing and offer you advice, if required. Previously from the well-known Sunshine Girls Lingerie in Whitchurch, our staff have 30+ years fitting experience to help you look your best.
We carry a selection of Accessories too - from bags and purses to scarves, hats, fascinators, gloves; Swimwear and much, much more....

Choose your perfect colour and shape from the in-season selection of tops.

We are stockists of a selection of Sloggi for Men; including Match | Short, Midi and Max and Start | Hipster.

We carry a large selection of bags and purses - from small clutches to I-can-fit-everything-in bags.

Select from soft-to-the-touch winter scarves and light-as-air summer cover-up scarves.

Beautiful lingerie for that special occasion, and everyday sets. For everyone, no matter what your size.

Find your sparkle with a range of clothing featuring motifs and embellishments.

We sell the popular Anna Montana brand of jeans including the Jump In Jean, Magic Stretch Jean and Magic Shape Trouser.

Capri and Cropped leg styles are available for the Summer season.

Outerwear | Coats and Jackets in stock from brands such as Brandtex.

A selection of Swimwear from quality brands Fantasie and Naturana, to suit all budgets.

This Season's Must-Haves
Trends for Autumn/Winter 2020, straight from our buyer to you....
Must have colours are: Hues of rich Orange, Blues and Greys
Must have shapes are: Cropped Blazers, Adjustable Ruching
Must have accessories are: Wraps, Chunky knee length black boots, Layered chain necklaces
Please note this page gives a flavour of what we sell, but stock changes quickly especially on popular new items. Keep checking our Facebook page for new arrivals!
---
Related Blog Articles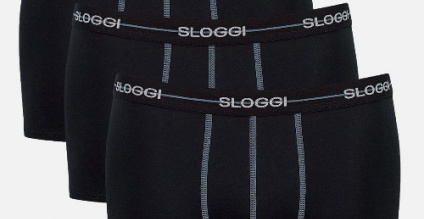 You've just found one of the best brands in men's underwear is sold locally! Yes, Sloggi for Men can be found in our fashion clothing department in Whitchurch, Shropshire.