For a versatile, durable and quick way to renew your bathroom interior Colour Supplies has a range of 100% waterproof bathroom panelling for walls, in designs that can replicate a huge number of luxury finishes. Whether you like the look of tiling, marble, natural stone or want something more funky, you'll find this wall panelling is quick and easy to fit and available in a range of thicknesses. We have options to suit a variety of budgets and applications. So, for an instant transformation of your current bathroom, why not try wall panelling.
Benefits
Waterproof wall panelling for bathrooms and shower rooms can offer you the following benefits for your home:
100% waterproof
Easy to clean - no grout, no hassle
Risk of mould eradicated as there is no grout
Quick and easy to install
Can be fitted over tiles
Design ideas
Let's take a closer look at a makeover of a typical family bathroom featuring a standard bath, basin and toilet. You'll see below that adding waterproof bathroom wall panels in your choice of style gives you a dramatic effect, for the smallest outlay. Then we show you a 'Spa' option which ramps up the glamour with different configurations and styles for your sanitary ware too. These wall panel options are all from Showerwall and you can read more about this great product, and the Splashpanel range, here.
You may not be able to re-create any of these options in your own bathroom due to space or feature constraints. However, we hope you'll get inspired to try something a little different. Maybe some different lighting, a large feature mirror, a built in vanity basin.... You can also pop into our Bathroom Showroom in Wrexham where you'll find lots more great ideas for bathrooms, shower rooms, en-suites and cloakrooms.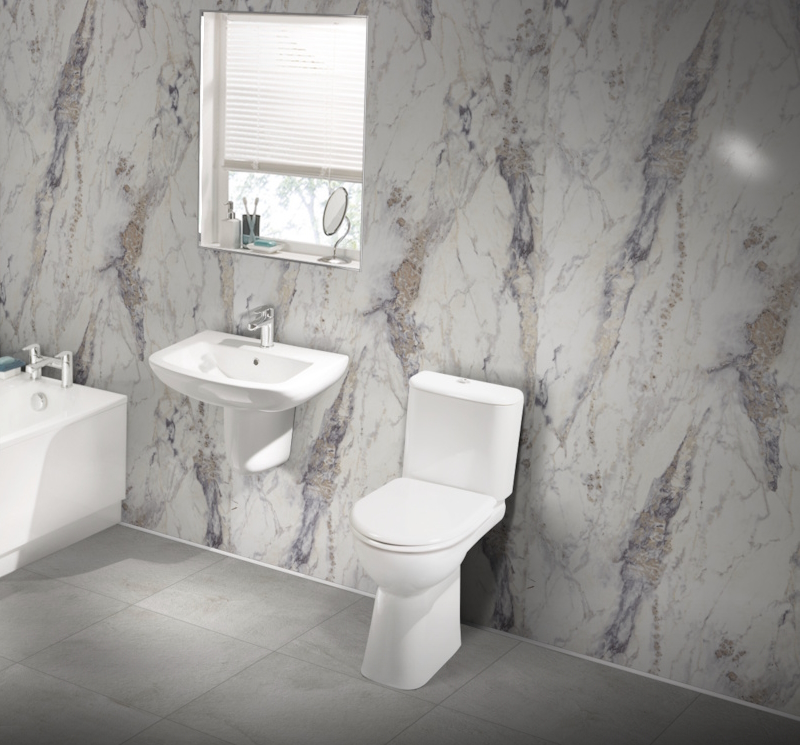 Like this look? Ask for Breccia Marble bathroom panelling.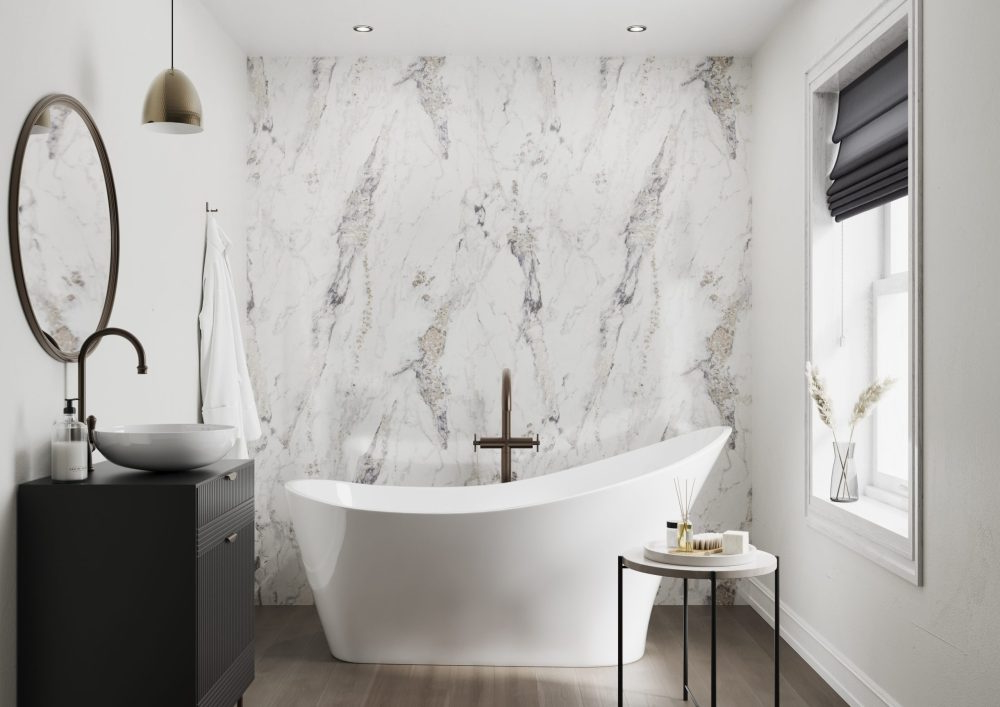 This spa option shows a freestanding bath and tap with a bowl sink sitting on a vanity unit. Inset lights and a feature light over the vanity add more glamour to this bathroom.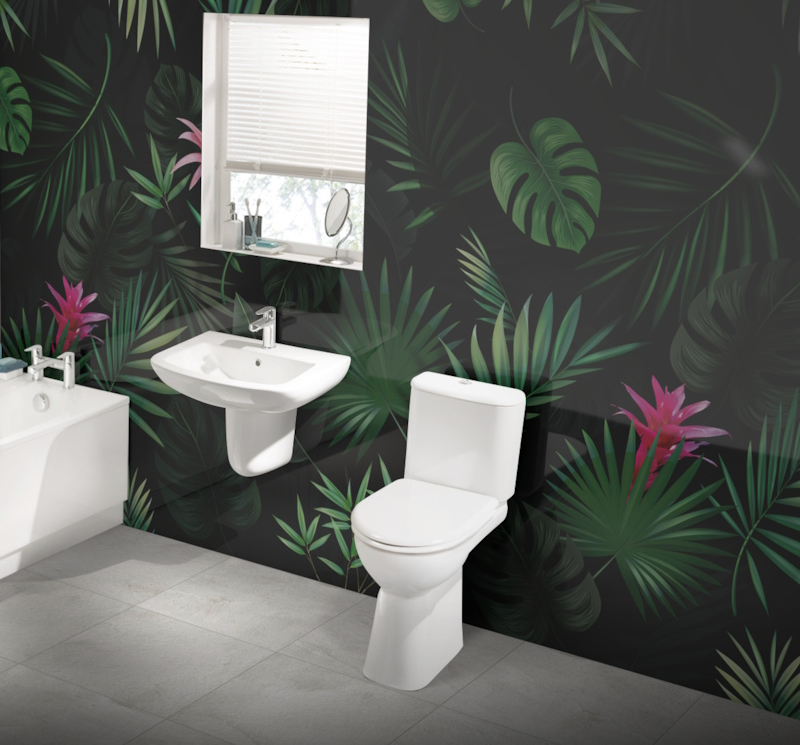 Like this look? Ask for Bromelia bathroom panelling.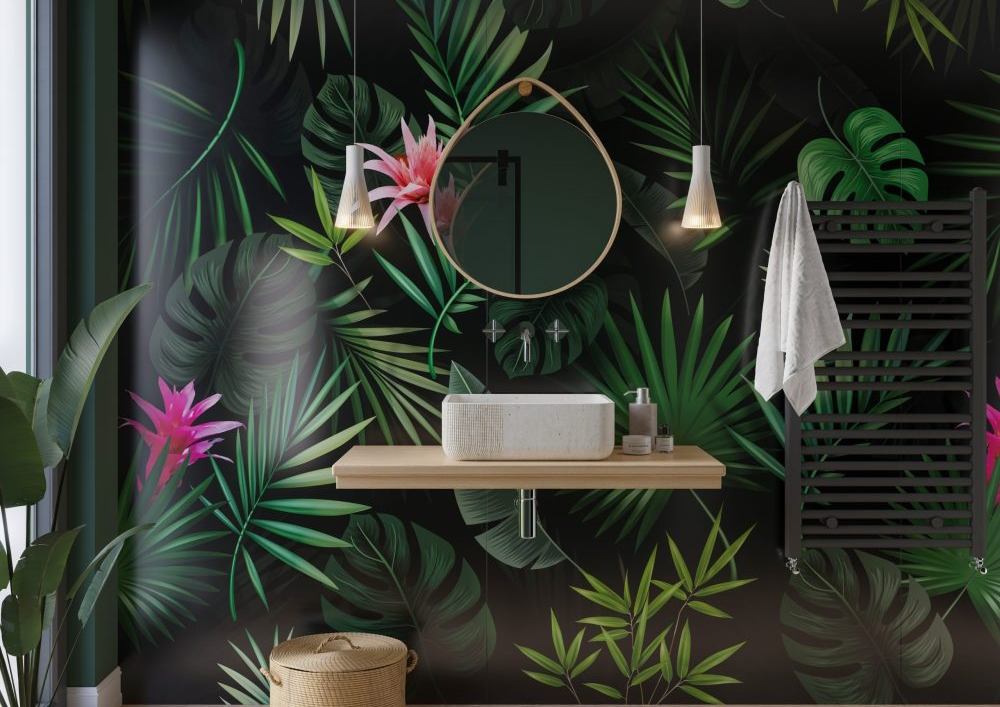 Large print wall panelling adds impact to this bathroom complete with feature lights and mirror, and a bowl sink with wall mounted taps. A practical option giving you more floor space.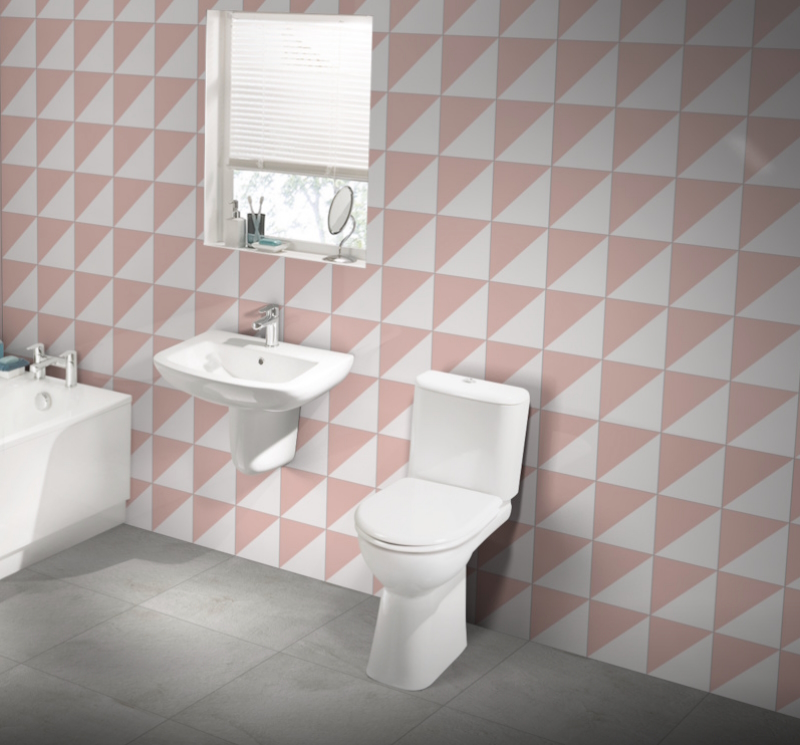 Like this look? Ask for Grafito Tile Blush bathroom panelling.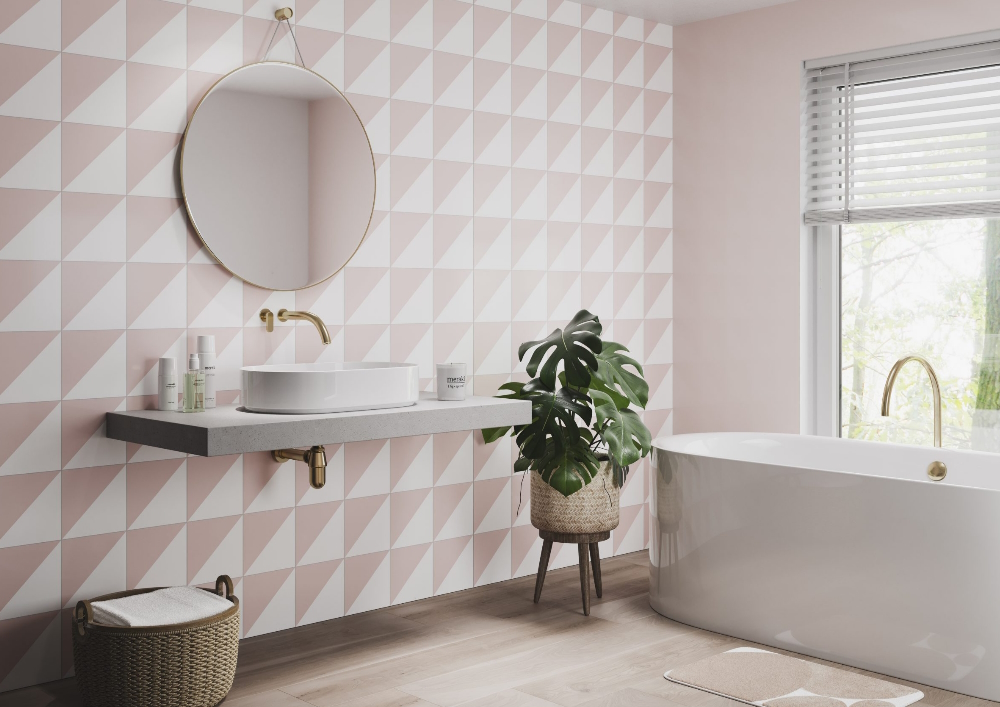 A light and airy design showing a freestanding oval shaped bath, feature washing area with wall mounted taps and a matching oval basin.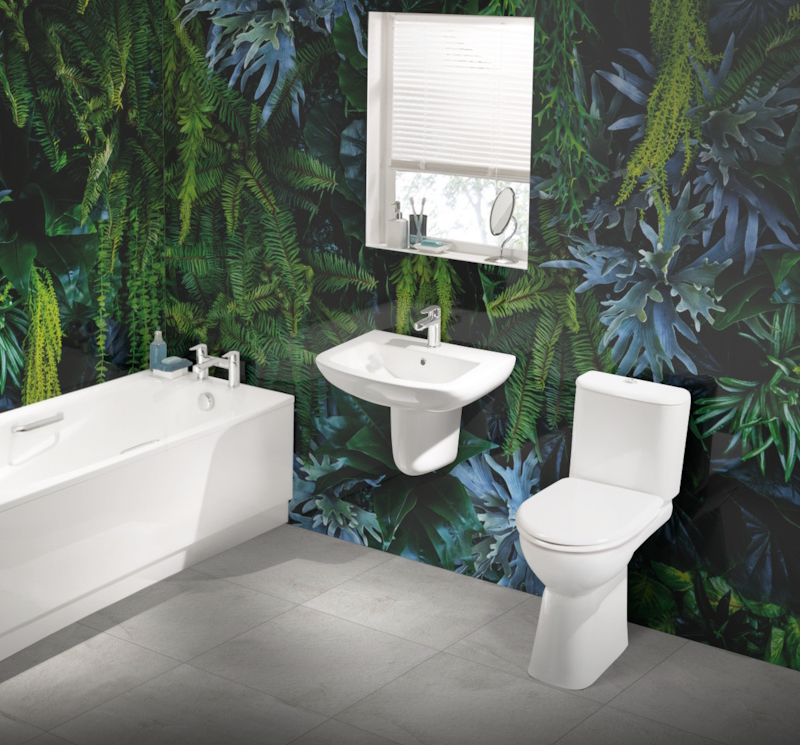 Like this look? Ask for Plant Wall bathroom panelling.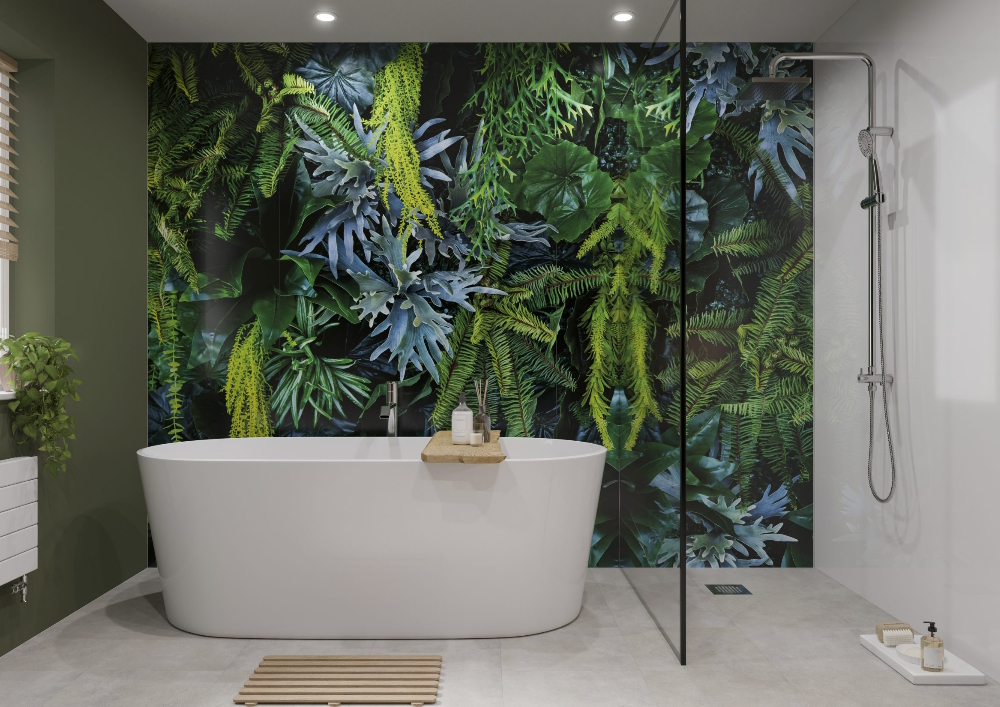 Another large print option for your bathroom wall panelling that really gives a wow factor. Complete this look with an open, glass-sided shower, inset lighting and a freestanding bath.
Like this look? Ask for Positano Blue Terrazzo bathroom panelling.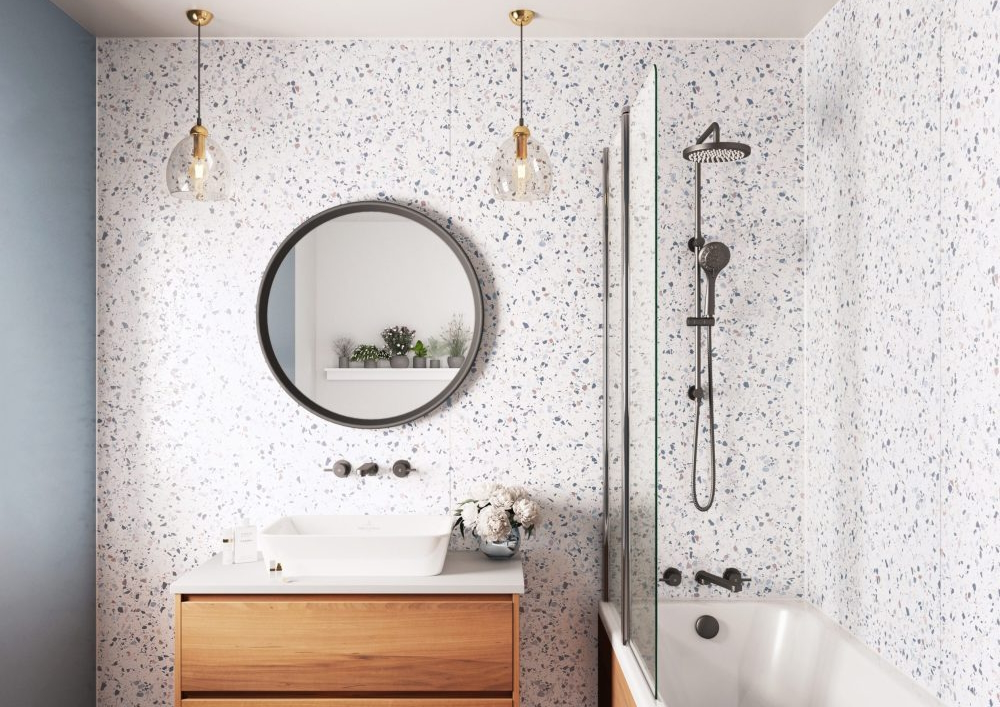 Add glamour to a more conventional bathroom layout with pretty wall panelling, feature lights, a large mirror and a sink bowl on a drawer unit.
Like this look? Ask for Starlight Sapphire bathroom panelling.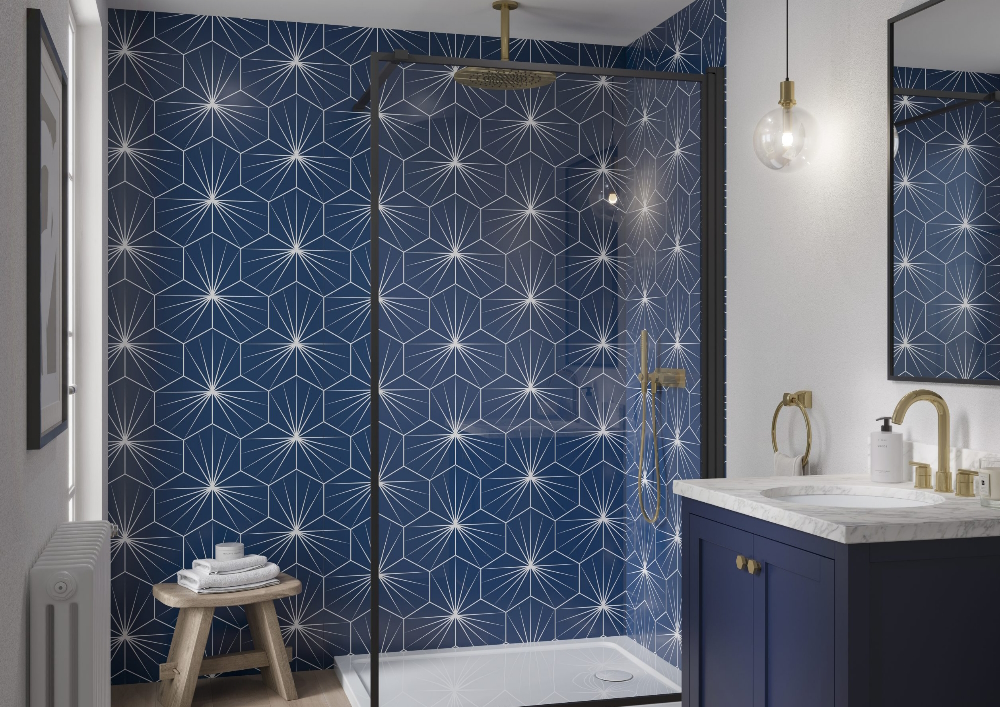 The simple addition of bold waterproof panelling to this walk-in shower area, coupled with a matching sink unit, really makes this bathroom special.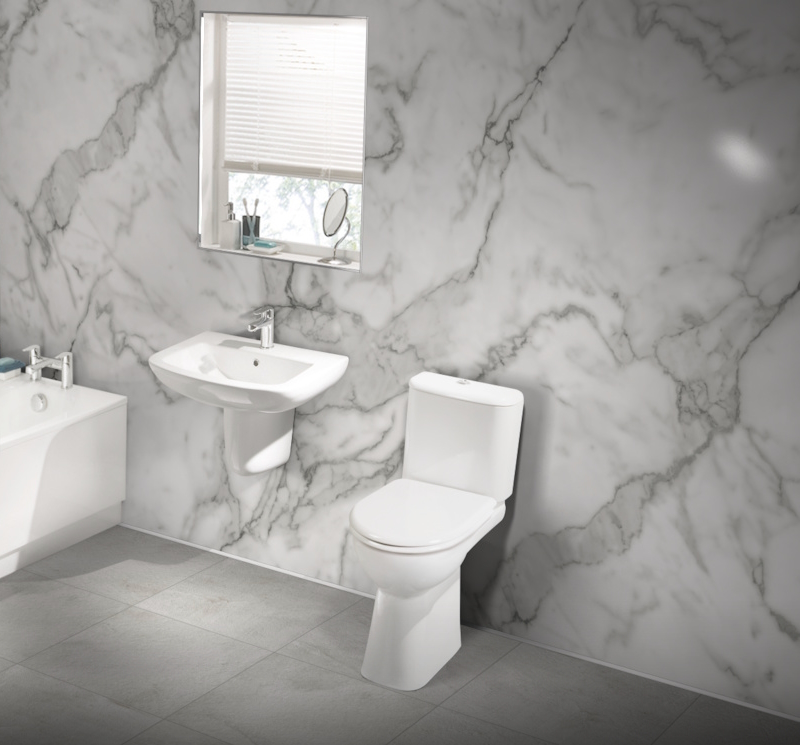 Like this look? Ask for Veneto Marble bathroom panelling.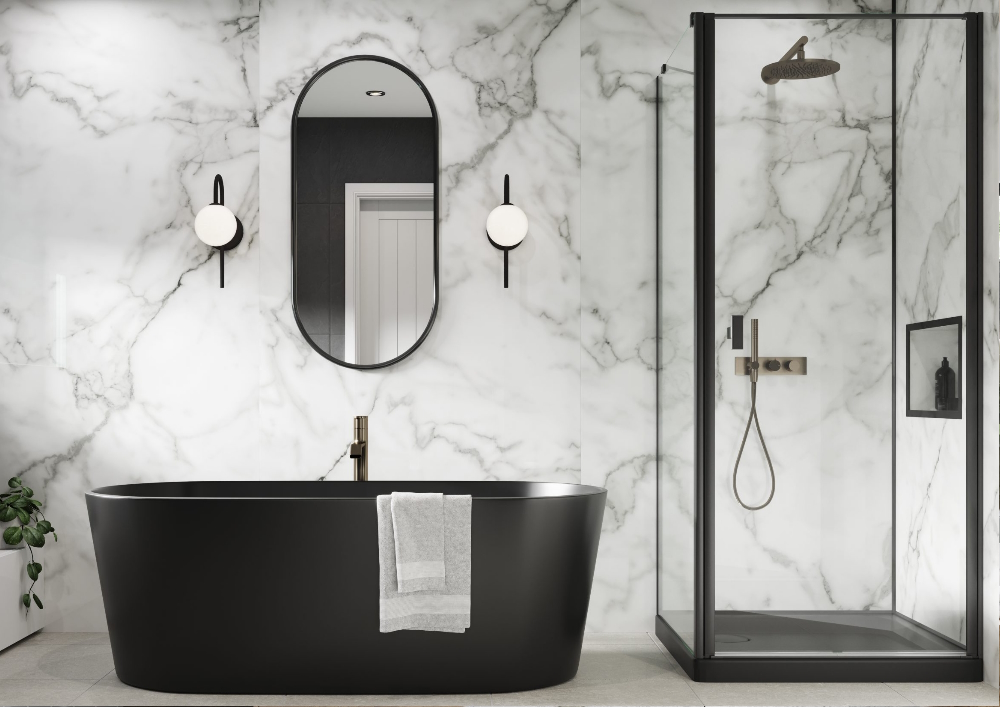 A fraction of the cost of real marble, this waterproof panelling coupled with feature black bath, shower unit and accessories gives an opulant effect even in a smaller bathroom.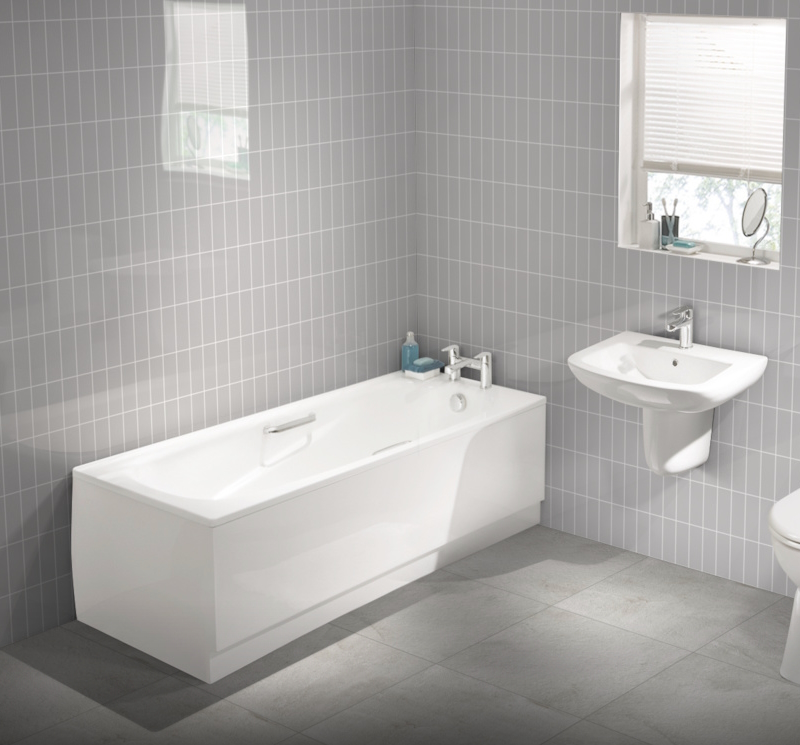 Like this look? Ask for Vertical Tile Grey bathroom panelling.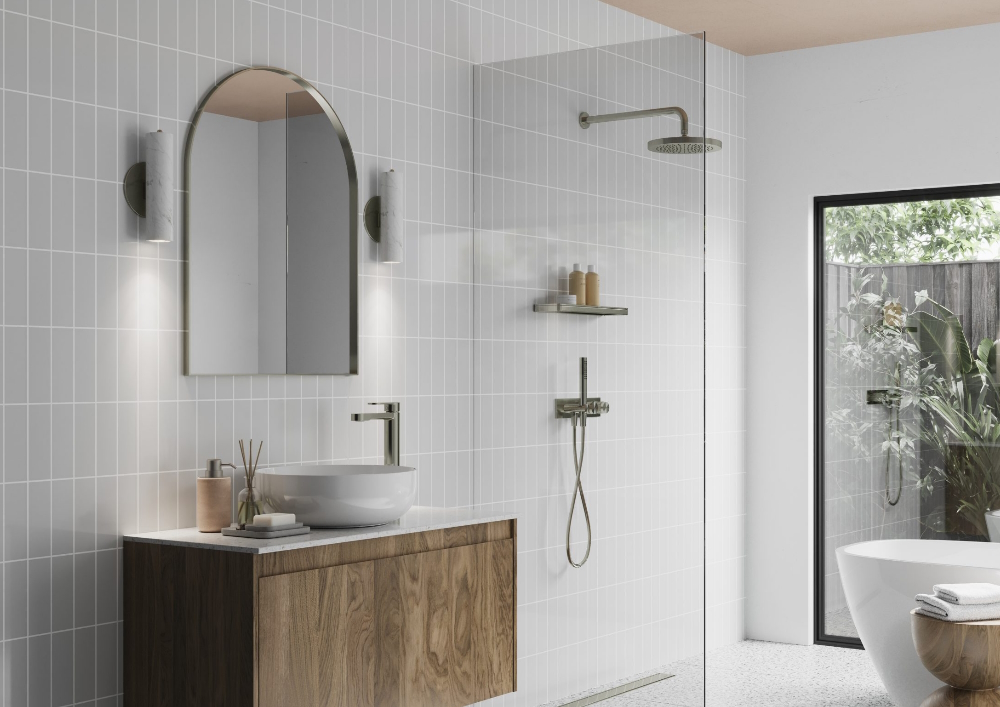 If you love the look of tiles, but don't want issues cleaning grout, then this tile effect wall panelling is just the job. With a modern take on tile layout, a walk in shower and feature washing area this offers a classic look but with extra style.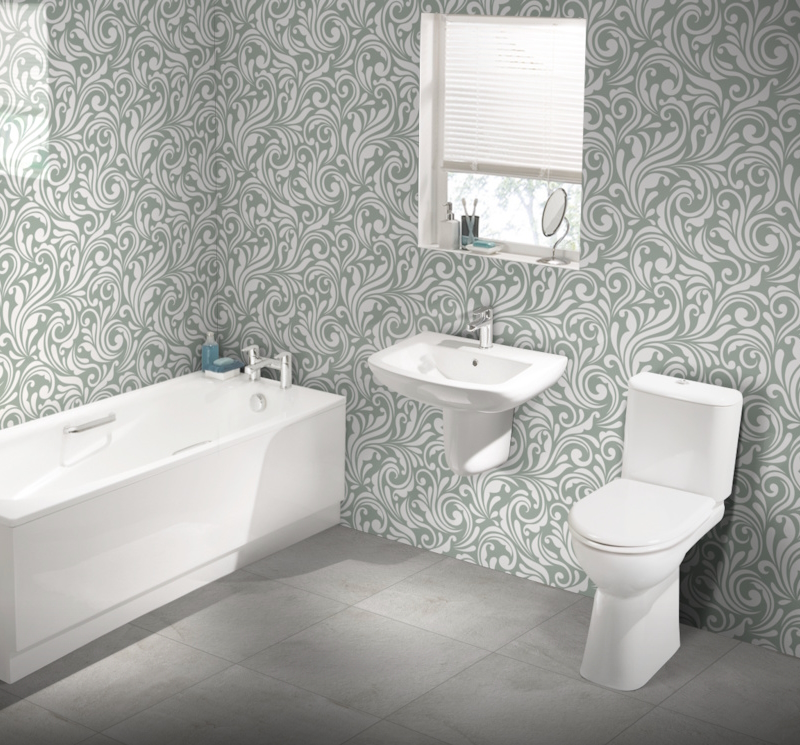 Like this look? Ask for Victorian Floral Sage bathroom panelling.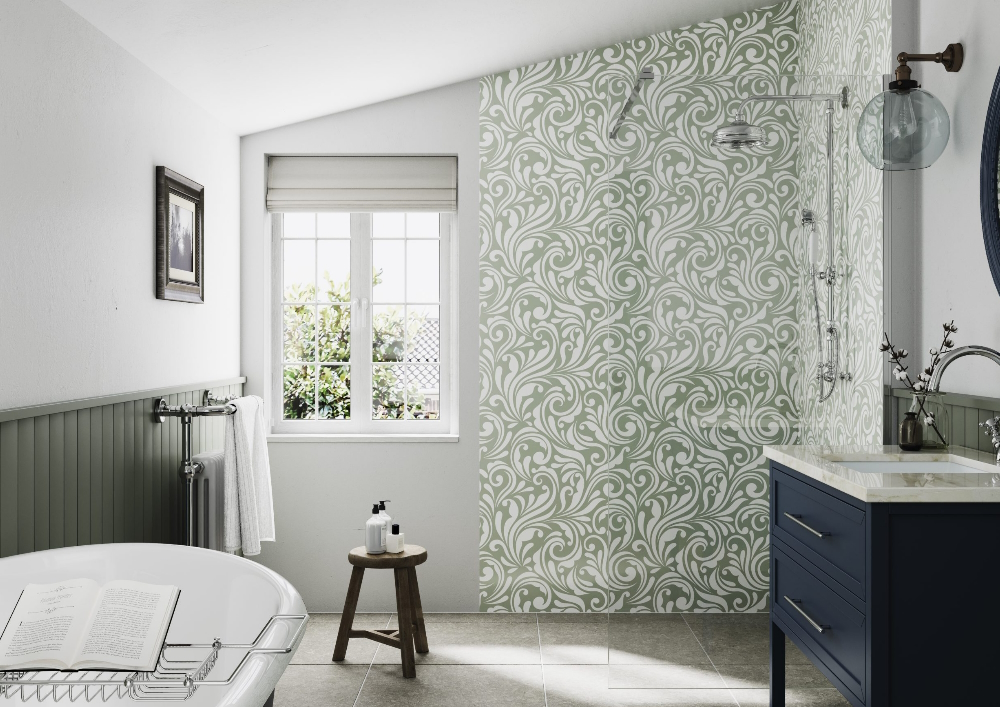 Add a gentle elegance to your bathroom with this pretty wall panelling. With half panelled walls in a matching paint colour, roll-top bath and walk-in shower, you will enjoy a blissful experience every day.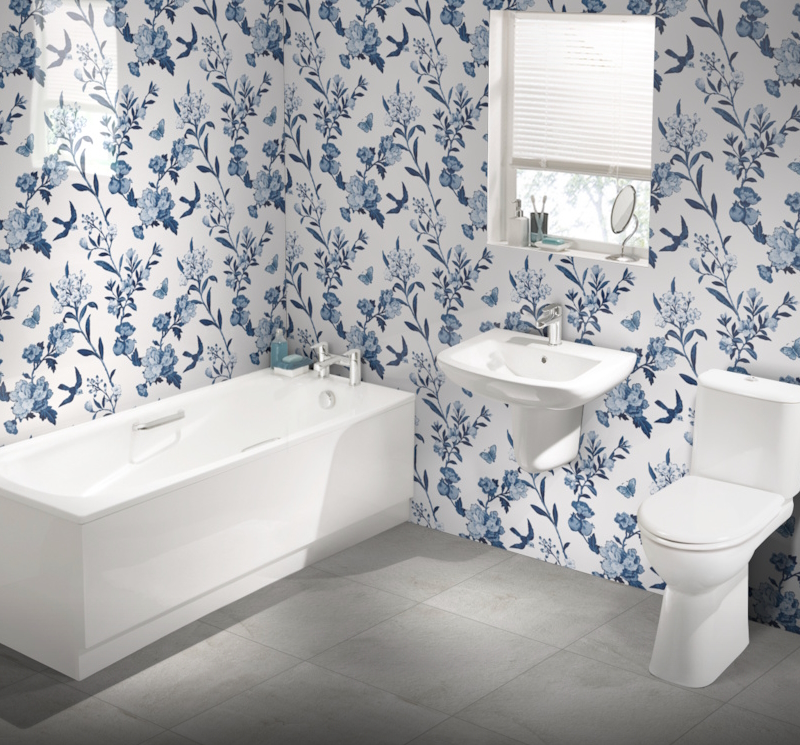 Like this look? Ask for Vintage China Blue bathroom panelling.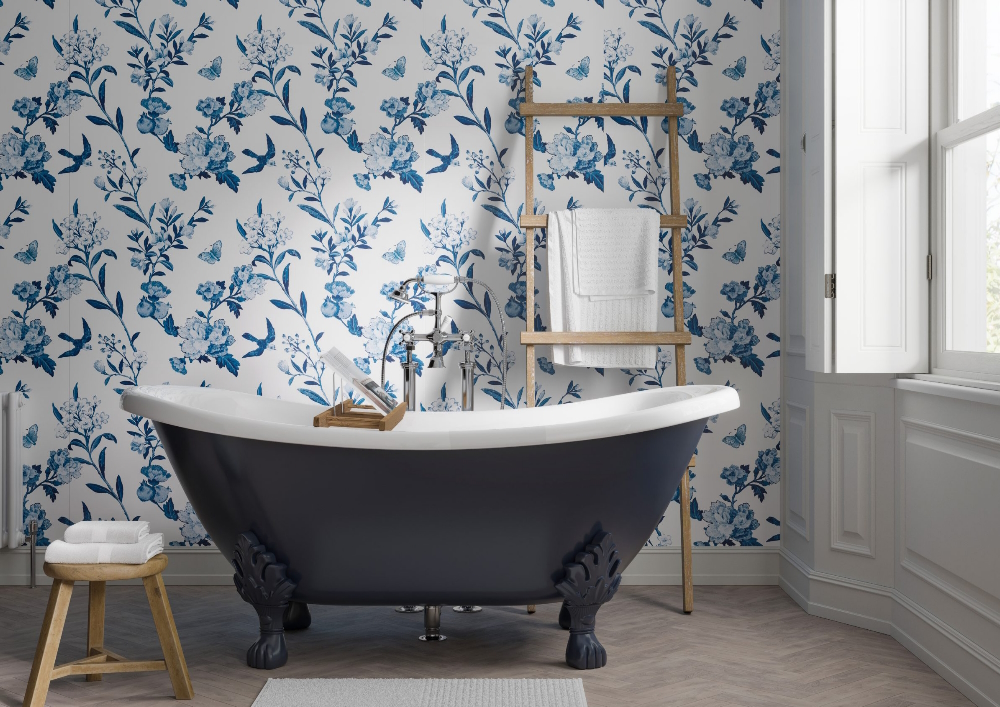 A vintage look with floral waterproof panelling and freestanding claw foot bath will look fabulous in an older property that has other period features.
Colour Supplies has a large dedicated Bathroom Showroom in Wrexham, Wales, and a smaller showroom in our stores in Oswestry, Shropshire. We can offer you a great range of big brand names like Britton, Rak, Vitra, Burlington, Roper Rhodes, Cleargreen and Zamori for your sanitary ware. And, of course, Showerwall and Splashpanel for waterproof wall panelling as an alternative to tiles. Our bathroom showroom also incorporates a specialist Tile Centre in Wrexham, with everything you need to complete a tiling project, should you prefer to install tiling instead.
We can help you pick out a new bath, basin or bespoke shower and can even design a whole new bathroom for you to go with your waterproof panelling. Just ask in store!
Have an enquiry? Complete our form online and someone will get back to you.
---
Related Blog Articles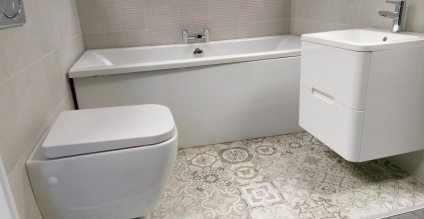 Our huge Bathroom Showroom at Wrexham offers an extensive range of designs and options at a price to suit all pockets. From toilets to shower screens, taps to vanity furniture, we are sure you will find the styles to suit your lifestyle.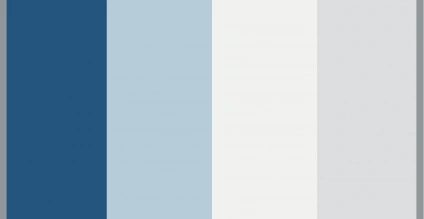 Whether you want to brighten up your bathroom by adding colour with paint, or you simply want to freshen up your accessories, we've created 3 colour palettes to help you add that splash of colour.