When life brings unexpected changes, we may have to adjust our home environment to make it work better for us. Colour Supplies partner with Crown Imperial who specialise in making great built-in furniture for kitchens, bedrooms and home offices.
If you have a life changing situation that needs a change to a room in your home, Colour Supplies are here to help. With fantastic designers to work with, we can design and supply some great ways you can adapt your home with built in furniture options, to better suit whatever your life change is.
Life change #1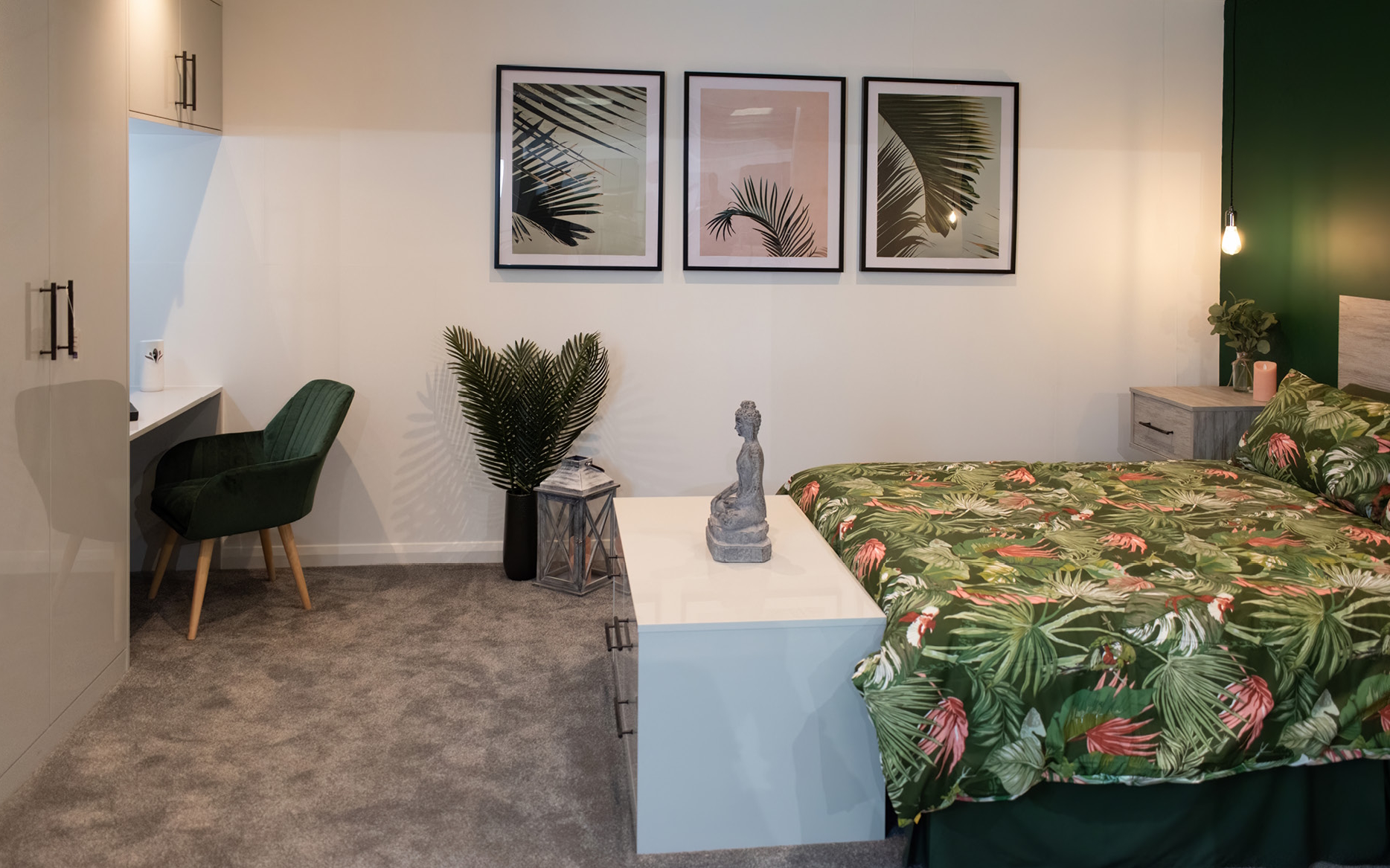 Maybe you have been through a relationship breakdown, or another grown up member of your family is coming to live with you.
The team at Colour Supplies can help design a beautiful bedroom sanctuary with Crown Imperial built-in furniture, featuring practical wardrobes and cupboards to minimise clutter. If space allows, a double width set of drawers at the foot of the bed adds a luxurious boutique feel to this lovely room. This bedroom offers a tranquil haven for anyone spending time in it.
This design idea can easily be tweaked to fit with the available space and colour options can be changed according to taste.
Featured finishes: Furore Grey Silk & Textura Driftwood.
Life change #2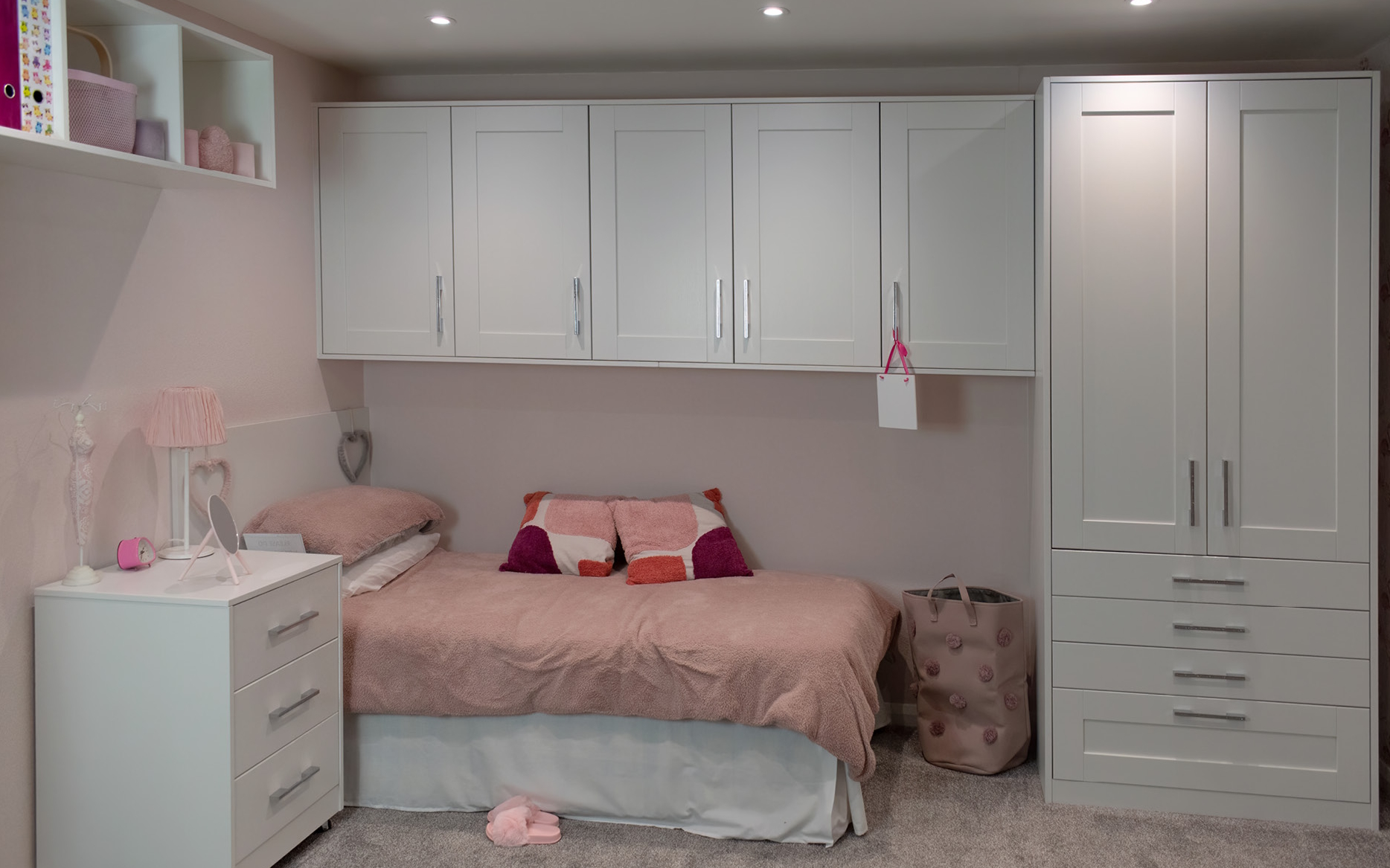 One of your children is about to move into their first grown-up bedroom after sharing with siblings, or you are adopting an older child.
Make them feel special, secure and cosy with this fabulous, Crown Imperial built-in bedroom which makes the most of unused wall space. With a selection of cupboards, drawers and wardrobes built-in to maximise floor space, the storage in this room will keep even the most disorganised teenager happy.
Easily adapted to any colour scheme, this design idea could be fitted in the smallest bedroom and help it appear much larger thanks to built-in cupboards.
Featured finishes: Midsomer Stone White.
Life change #3
When you have really been through the wringer, or maybe you are celebrating coming through a health scare, and just want to indulge in a bit of luxury, this look could be for you.
Easy to re-create wood panelling and these attractive Crown Imperial drawer units, along with matching built-in wardrobes (not visible in picture) can turn your old, tired bedroom that maybe you've spent too much time in recently, into a fresh, glamourous sleeping space that will give you a boost every time you wake in the morning.
Requiring just a few accessories, this look is easy to achieve even in an average size bedroom.
Featured finishes: Rimano Cashmere.
Life change #4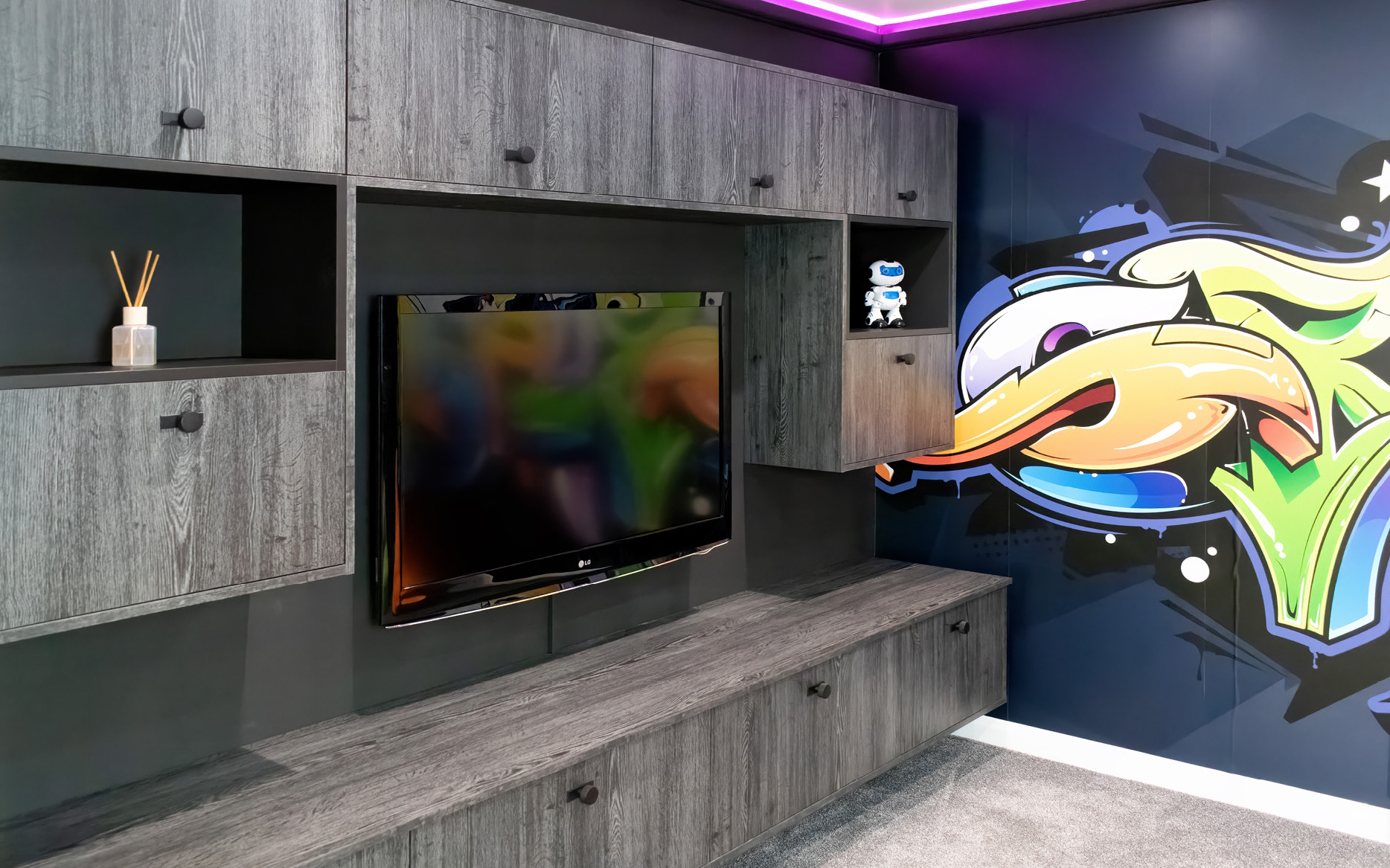 One for the 'boys' perhaps? If an indoor gaming room is going to bring joy to your household, or it's needed as a special go-to room for someone in your family as a dedicated place to chill in, then how about this idea.
Simply take one wall in an unused dining room or spare bedroom, and build in a range of cabinets and shelving from Crown Imperial. Add a large screen TV, some funky decor and new lighting for a room fit to hang out in.
Whether it becomes a man cave, or a lads paradise for friends to visit, this idea is only limited by your budget and imagination.
Featured finishes: Textura Black Oak & Zeluso Black.
Life change #5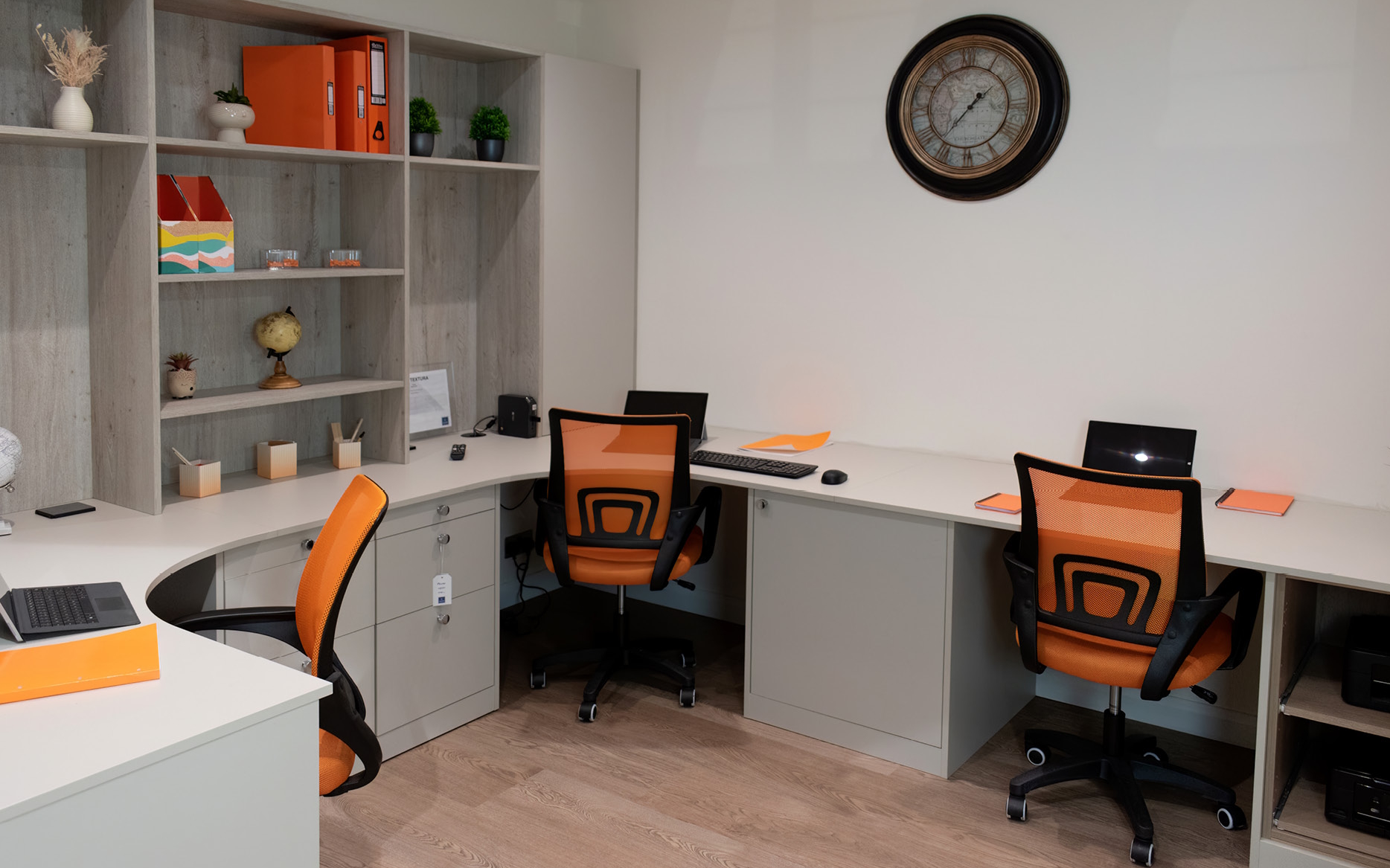 With the economy as it has been, you might have started working from home but need a more dedicated space for a few staff. Or you have had to trim your budget, give up your costly office space and need to convert your garage to a home office.
With Crown Imperial, and Colour Supplies to help design to your requirements, you could have a fully functioning, attractive home office set up in no time. With great flooring options too, from Palio, this might be the best change you have ever made.
Featured finishes: Uno Taupe & Textura Taupe Oak.
Life change #6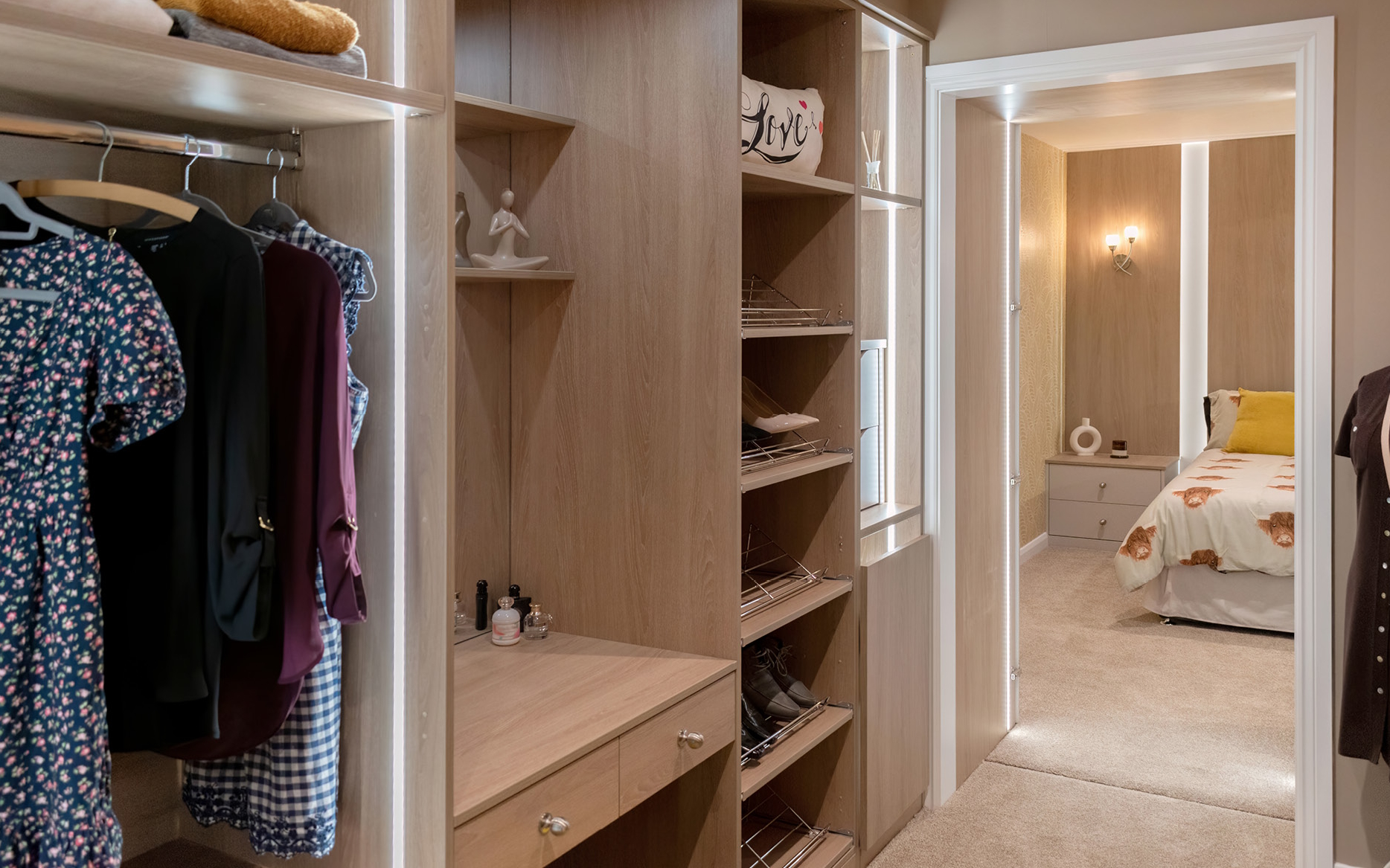 Your last child has now flown the nest, or you have downsized but want to retain some of the features of your previous larger home.
How about this option for turning a smaller bedroom next to the master bedroom into a walk-in wardrobe? With a little creativity, and a small amount of building work, this compact but full featured walk-in wardrobe from Crown Imperial could soon be your new happy place.
Featured finishes: Sand Oak.
Colour Supplies have a team of resident designers who would be happy to talk through options to change a room into something really special for you or a loved one. For more information please complete our online form.
Please contact me about built in furniture options
Colour Supplies, suppliers of Crown Imperial built-in furniture, is an established family business with three Home & Garden Department Stores in Oswestry, Whitchurch and Wrexham.
---
Related Articles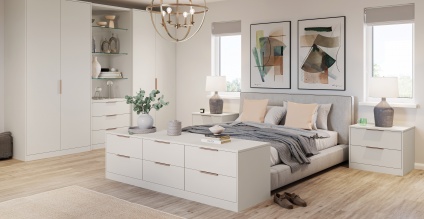 Tired of your old stand-alone wardrobe, drawer units and bedside cabinets? Have you thought of maximising your bedroom space with some new fitted bedroom furniture? Let's look at some of the latest options and ideas for your bedroom...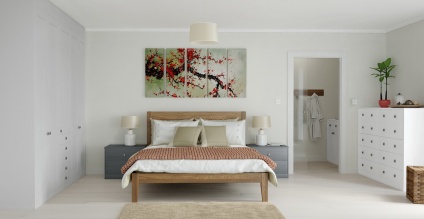 As well as a large range of freestanding furniture for the bedroom, you can now have the benefits of luxury built-in bedroom furniture, beautifully crafted and without the inflated price tag of some well known brands.